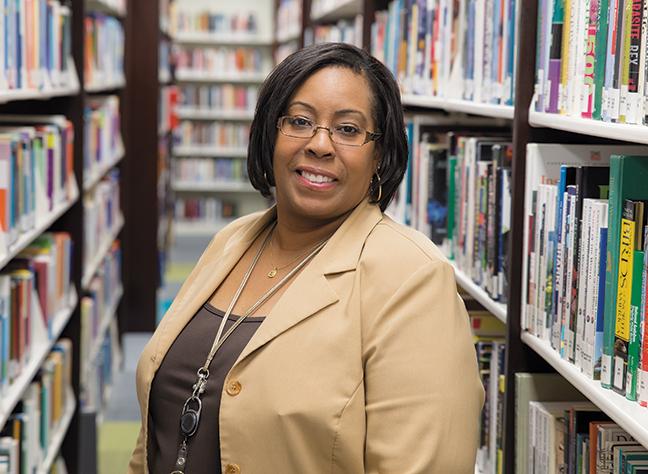 Leo Strong
Michelle Harrell-Washington is the campus's new MLIS Library and Information Professional. She is a woman who is humble and focused on educational needs. In her early years, she never once thought that working in a library would be her passion. When asked the deciding factor that made her choose to become a librarian, she recollected that it hadn't crossed her mind back in 1984 while doing work study at UW-Madison. While there at Madison, she received her Bachelor of Science in Child and Family Studies. During that time she worked at different agencies and firms to sustain herself. She eventually realized that she had an interest in information and library work.
Most people know about Dollar General, a chain of retail stores that sell relatively discounted items at modest prices. One might ask "What's the connection with Harrell-Washington and this company?" It so happens that she worked as the Director of Literacy for the Dollar General Literacy Foundation for two years. Her primary goal was to work with the under-serviced population and remove barriers. The foundation's co-founder, J.L. Turner, had a third grade education, "dropping out of school when his father was killed in an accident," she said. Since the creation of the foundation in 1993, the foundation has awarded $98 million in grants.
There are two levels of fascination for her as a librarian. On the practical and career level, her mission is to bring MATC libraries to the next level, according to district expectations. The second level is personal to her. She looks at the different types of students who come through the hallways and sees a little bit of her life in each person, each one looking to further their education. She has a passion for helping people and meeting new people. "Things happen in a certain order," Harrell-Washington said. This reflects her many accolades on her journey from 1984 to her present position.
Aside from being the District Manager of Library and Information Services, some of her past credentials include: Director – Office for Diversity, Literacy and Outreach Services (American Library Association 2013-2015); Public Services Librarian (Medical College of Wisconsin 2009-2013); Library Director (University of Wisconsin Colleges-Washington County 2008-2009); Multicultural Services Librarian (UW-Milwaukee 1999-2008). The list goes on with other notable accomplishments.
Finally her two biggest hobbies include nails and make-up! Her two favorite books are the Bible and "Rebecca" by Daphne du Maurier. We hope to see more positive accomplishments as she takes the library forward to the next level.