New scholarship provides funds for MATC Hispanic students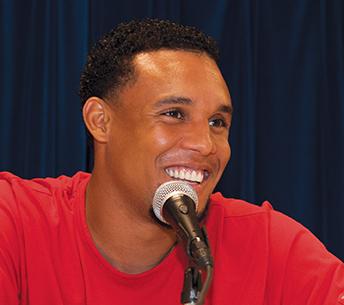 Hang on for a minute...we're trying to find some more stories you might like.
Carlos Gomez is a hard worker on the field and off. Not only is he an all-star center fielder for the Milwaukee Brewers, but also he's involved in the community.
On June 14, Gomez celebrated, along with the League of United Latin American Citizens (LULAC) Council 333 and the MATC Foundation, the recipients of the LULAC/Carlos Gomez Hispanic Scholarship. The event was held at the MATC Downtown Milwaukee campus. Dr. Arturo Martinez, associate dean of the School of Pre-College Education and state director for the LULAC of Wisconsin, wanted to use some of the funds raised by LULAC Council 333 in 2014 to create a scholarship fund within the MATC Foundation. He asked Christine McGee, executive director of MATC Foundation, if the Foundation would match LULAC Council's gift.
Nine Hispanic students were awarded $1,000 scholarships from the MATC Foundation. These scholarships can be split over the two semesters beginning this fall.
Carmen Serna, Liberal Arts program, found the scholarship via the MATC scholarship site. She said it was easy to apply.
Alma Hernandez, Dental Assistant program, found the scholarship opportunity through her counselor, Becky Carrillo. Ivonne Rosado, Nursing program, was automatically entered when she filled out an online general scholarships application. According to McGee, the scholarship specifically for MATC students was established this past spring.
"A portion of the scholarships are available specifically to students with Deferred Action for Childhood Arrivals, or DACA, status which is an immigration policy established by President Obama's administration in 2012," McGee explained.
Students interested in applying must be accepted into a program at MATC, have a minimum cumulative GPA of 2.5 for current MATC students, and be enrolled in at least six credits for non-DACA students or at least three credits for DACA students, as well as be Hispanic/Latino, clarified McGee.
Students can find scholarship information from the MATC Foundation at matc.academicworks.com. The application process for spring scholarships begins this September and students will be notified in December.
McGee stated, "Students should watch their college email for announcements about scholarships. Since the application process is competitive, we (the MATC Foundation) created four two-minute video tutorials on the scholarship site to help students with the application process, including tips for submitting a strong application."
The MATC Foundation was created in 1979 to help support the college and its students. The Foundation is a separate charitable organization with its own governing board of directors. "The Foundation supports student success and enhances learning by engaging those who are passionate about the college and the community it benefits," McGee explained.
Gomez brought along with him some fellow ballplayers including shortstop Jean Segura, starting pitcher Willy Peralta, and catcher Martin Maldonado to help auction off autographed memorabilia. The proceeds helped support the scholarship fund.
The players signed autographs for fans after the auction. Gomez summed up his feelings on education with the following statement, "Education is important to the community and to the world."