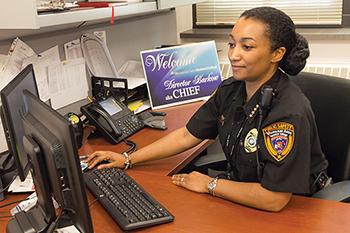 Ashley Zunker
With all the controversy regarding law enforcement officers in the country, it's nice to know we have a friendly face here at MATC with our new Director of Public Safety, Chief Aisha Barkow. Barkow brings with her 18 years of experience at the Milwaukee County sheriff's office, as well as being a licensed professional counselor.
Barkow earned her Bachelor of Arts degree in criminal justice from the University of Wisconsin-Milwaukee (UWM). She had no idea she was going to go into law enforcement then, because she wanted to be a judge. While attending her Juvenile Justice class, a recruiter from the sheriff's office came and spoke to her class, Barkow needed a job so she applied. "I worked in the sheriff's office, it's a little different. People always ask are you like MPD, the police department. Of course, we're sworn law enforcement, but we just have authority over different areas," Barkow explained.
Her favorite role at the sheriff's office was engaging with the community. "I've always been in public safety. I've always been a servant, public servant. I always believe in protecting and serving our community. Trying to make sure our quality of life is good so that's what I have a passion for. So coming here to MATC was just a natural fit," she clarified.
Barkow brings a fresh set of eyes. She feels like she brings the "community-policing model." She explained, "It's not us and them. We're in this together so that's what I really want to bring to MATC. It was already here so again it' s just about building onto the successes that were already here."
Kathleen Heinrichs, support for Public Safety, said Bradford Hines, the former chief of Public Safety, was involved in hiring Barkow, he really liked what she brought to the table. Before Hines retired in April, Barkow was able to shadow him for a few weeks. Barkow said Hines shared a lot of experience and institutional knowledge with her.
Barkow also has a master's in educational psychology.  Her philosophy, "I believe everyone has the potential for change, growth and greatness. This allows me to connect with students and create positive interactions. Ultimately, having a working relationship with students creates a partnership at the campus that is needed for the safety and security for all."
As Chief of Public Safety, Barkow manages and oversees the safety and security of each campus. Barkow clarified what she does, "not just to make sure the building itself is safe, because of course, we look at the risk and try to mitigate any safety risks that are going on, but also to connect with students, faculty and employees so that they feel safe with any concerns that they have. We want to make sure that we create an environment that's conducive for learning."
Barkow starts her day with what she calls "security patrols," which is walking around the campus and greeting people and seeing if anyone has concerns. She also has meetings, but says that her day includes looking at a lot of data.
"We are really moving towards being a data-driven department. What is our data saying? Where is it saying we may need more patrols, or to focus on a certain type of incident that's going on? It's about connecting. Where do we need to connect? Who do we need to reach out to and make sure that they understand our emergency preparedness? Because, that's another key with public safety, making sure our campus is prepared for any type of emergency incident that may occur on the grounds," Barkow explained.
Barkow is stationed at the Downtown Milwaukee campus, but does make a point to make it to other campuses. There are officers at every campus, who roll call at each shift, which means they check in with all the campuses and report any issue or concern brought up during the day. The officers also do hourly checks and call into the Downtown Milwaukee campus. As Barkow said, "It's constant communication."
Her goal for public safety, Barkow explained, is moving toward a community policing philosophy, which is really engaging the campus into public safety. Often times, people are a little shy or sheepish and may not want to approach public safety officers, but Barkow said, "The officers want to make themselves seem more welcoming and less threatening and it gives people the opportunity to bring concerns to public safety. We can't do it alone. Our goal is to get everyone involved. We want people, if they see something to say something. We really want that message to get out," she clarified. She wants students to be comfortable with coming to public safety officers with any issues or concerns. That's why you will see the public safety officers' presence.
Barkow's No.1 goal is to be the safest campus in Wisconsin. She said, "Our expectations are high and we strive for excellence. No one is perfect, but that's what we strive for. We are always looking for ways to improve."
So how does our campus compare to other local colleges like UWM or Marquette? Well, according to Barkow, we have a lot of the same issues; the difference though is that those universities have housing. "We all have the same kind of problems," Barkow clarified.
MATC has an emergency response plan, if anything does go wrong.  Barkow explained that MATC collaborates with local police departments near the campuses and the Milwaukee County Emergency Management Department.
The emergency response plan is available on the portal for everyone to read. "It's for everyone because everyone has a role in it. Not just us, but the students, teachers, the whole campus community has a role in it," explained Barkow. There is actually certificate training for an emergency response team available. It is so people understand how MATC responds to emergencies. It is an ongoing program and people can find more information on the MyMATC portal under public safety.