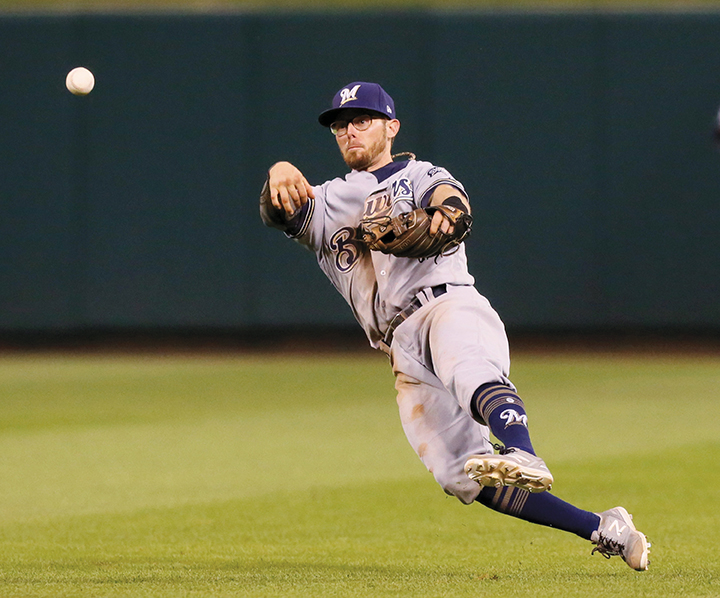 TNS
A few years ago the Milwaukee Brewers dismantled their team and started over. It was a fresh start for a club that has had its ups and downs. The team invested in prospects and youth. So far it's working. The Brewers are in first place.
Last year, the Brewers traded fan favorite Jonathan Lucroy, catcher, to the Houston Astros for prospects. Lucroy's trade allowed Orlando Arcia, considered one of the top prospects in the Brewers organization, to be called up to the majors. And he hasn't been sent down since.
He made the major league roster this season as a starter at shortstop. Arcia's glove skills are a thing of beauty. He can make amazing plays in the field. And he has speed, although only five stolen bases thus far. He was slow at the plate to start, but has been hitting well as of late.
Jonathan Villar came from the Houston Astros in a trade in 2015. Last year he started 156 games and stole 62 bases while being caught only 18 times. Those numbers were good enough to win the stolen-base crown. Although this year, his batting is off to a slow start, he has 14 stolen bases while being caught only four times.
Keon Broxton is another player with speed. He has 13 stolen bases so far this year. His batting has been sporadic, but he has hit 13 homers so far. Broxton came in a trade with the Pittsburgh Pirates.
The Brewers didn't trade away all their veterans. Ryan Braun remains as the longest standing player on the team. His numbers have dipped a little in the last few years as he's dealt with injuries, but he is having a solid season thus far.
A new addition to the Brewers, but a player with experience, Eric Thames joined the team this season. He played in Korea the last three years, but had been with the Toronto Blue Jays before that. He has been quite the find since coming back to Major League Baseball. He was off to a torrid start in April with 11 home runs and continues to contribute at the plate. He's also versatile in that he can play first base or outfield.
Another Eric, Eric Sogard, joined the Brewers as a free agent in the off season. He is one of the most consistent and stable guys on the team. His on-base percentage is .462, which is highest on the team and he often hits lead-off.
A veteran presence acquired in a trade, Travis Shaw leads the team with RBIs. He also has 15 home runs.
Hernan Perez was claimed off waivers from the Detroit Tigers in 2015 and then signed as a free agent after the season. He is a versatile utility player. Perez can play almost all the infield positions and also outfield. He has received more playing time with Braun's injuries and has taken advantage of his playing time.
Junior Guerra is an anomaly because he played his rookie season last year at the age of 31. In the majors, that is an old rookie, but Guerra persevered and made it to the major leagues. He had a great break out season and was named the starter for Opening Day. Unfortunately, he got injured on Opening Day, but has made his way back and is pitching well as a starter.
Acquired from the Texas Rangers in 2015, Corey Knebel has stepped in as the Brewers' closer after Neftali Feliz's collapse. Knebel has set a record by striking out at least one batter in 38 straight appearances to begin a season.
The Brewers have many great contributors and the exciting part is that it's someone new every night. The team is fun to watch with its youthful energy and resilient nature. Peek into the dugout, and the guys are concentrated on the game, but are having fun too. After home runs, often the players will high five and then race to the other end of the dugout so they can jump and bump elbows.
The team is in first place as of the end of June. Will it last? Most likely not, but the Brewers have been in first place from almost the beginning of the season. They are playing way better than anyone expected, except for maybe the Brewers themselves.
The Chicago Cubs won the World Series last year for the first time in a long time. They had also revamped their team majorly and look how it worked out for them, a World Series ring. So if the Brewers keep hitting home runs (they are off to the fastest start in Brewers history), and contributing, it might not be too far off for the Brewers to also win a World Series.