MATC Fire, Police and EMS Expo brings community together
Over 1,100 people attended the first MATC Fire, Police and EMS Expo held earlier this month at the Oak Creek Campus. The Expo showcased the school's Protective Services Department while providing an array of spirited demonstrations and fun for all who attended.
The festivities began with a parade of antique and active emergency vehicles and a moving tribute to those who perished on Sept. 11, 2001.
Families, kids and prospective students interested in careers in law, public safety and security were able to interact with professionals currently in their interested field of study while enjoying numerous exhibitions of skills. Demonstrations performed by MATC students, instructors and local professionals included tactical EMS exhibitions, a police motorcycle skills course, and a vehicle extrication demonstration.
The Flight for Life helicopter also landed at the Expo, giving attendees a rare opportunity to speak with the pilots and review the helicopter.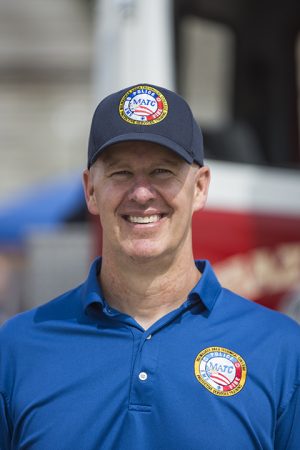 This event started as an idea by MATC Protective Services instructor Doug Braun.  "Previously the school had a hodgepodge of separate events like a job fair, an open house and a chili cook-off to support the Police Officer Support Team. "Braun's approach was to combine all of the events into one special day that would be more efficient and effective. He reached out to the the Milwaukee Fire Historical Society. Their collaboration created the Expo.   
Braun, a 23-year veteran police officer from Wauwatosa, would be the first to tell you he did not do this alone. Over the course of a year, 28 different MATC departments, 30 local public safety and security agencies, and a large list of sponsors including WaterStone Bank and Bell Ambulance helped in making the Expo a success for both MATC and the community.
The Criminal Justice Student Organization (CJSO) helped in making the day run smoothly by running activities for kids and assisting numerous exhibitors. In past years the student group, led by faculty advisor Braun, held chili cook-offs to help raise money for charity.
The Expo provided the school with a larger audience to raise funds. Instead of chili, a Red and Blue auction was held on the grounds with items donated from local businesses and groups. It raised over $2,400 for the Milwaukee Area Police Officer Support Team and the Milwaukee Fire Department Junior Fire Institute.
Other students participating in the Expo included second-semester Fire Science students Claire Rosenberg and Lisette Torres.
They participated in the dismantling of a Subaru Impreza by a hydraulic rescue tool known as "the jaws of life." Both students said they became interested in the MATC Fire Science program at the encouragement of friends. "I've always wanted to help people," said Torres. "My mom is a nurse so I have always been inspired by doing whatever I could for others. But I knew fire science would be my preferred area of interest. Running into a burning building isn't for everyone, but the way I see you have to risk a lot to save a lot."