Hungry? Diet Detectives to the rescue
Hang on for a minute...we're trying to find some more stories you might like.
Dear Diet Detectives,
School is starting and I am wondering if you have any tips to eating healthy on campus? I'm usually at school between 8 a.m. and 4 p.m. and find my stomach grumbling in class. I'd like some ideas on how to eat healthy at school. What are my options? Thanks for your help!
-Kent P.
Great question, Kent! Fall is in the air and school is in session. We're coming down from a summer vacation full of festival food and family barbeques (or video games and Taco Bell.)
One thing we want to make sure to do is to try and eat healthy during the day so we have the energy to help our brains absorb all the math, all the history or all the welding. Research shows that eating well helps retain knowledge and having a belly full of good food will keep you from being distracted by your "hunger grumbles."
First, and this is important, eat a good breakfast. When we say "a good breakfast" we don't mean Kool-Aid flavored Pop-Tarts or unicorn-shaped marshmallow puff cereal, we mean healthy. Try and eat foods that have low glycemic index, according to Chrissy Carroll, MPH, RD, in Today's Dietitian, Vol. 16 No. 10. What this essentially means is that you should try to avoid bombing your system with tons of sugar right away.
Why? Well, sugary foods will make you feel energized at first but then…wham, sugar crash. Now you're falling asleep in biology. Instead, focus on whole grain cereals, which are high in fiber, and fresh fruits with built-in sugar and vitamins. These foods will release their energy over the course of the day and will keep you energized longer.
Lunch? Are you bringing lunch or grabbing something from the cafeteria? I did some investigating at the MATC West Allis Campus cafeteria to see what some healthy options are. First of all, there is a lot of junk food (delicious junk food). Candy, chips and doughnuts right out in the open. Sure, it's easy, but not good for you at all.
How about some soup? The soups were chili and a potato and chorizo soup. Go for these instead. Our talented culinary students and staff take the time to use nutritious, whole ingredients (sometimes locally sourced) and make the soup and sandwiches from scratch. In this case we're getting great protein, vegetables and minerals to power up.
We have cold cases stocked with pre-made salads, wraps, fresh fruit and veggie cups that are much healthier than Flamin' Hot Cheetos.
Bottom line here, look for fresh foods rather than the junk packed with preservatives. Don't forget to stay hydrated throughout the day too!
Want to bring a lunch? How about an "on the fly" wrap! This recipe can be made in under 10 minutes. So, if you're rushing out the door, here's a tasty lunch to put together last-minute.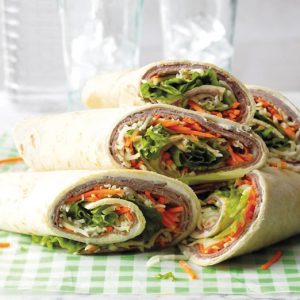 Beef 'n' Cheese Wraps
Start to finish: 10 minutes or less
Servings: 1
Ingredients:
1 flour tortilla (10 inches), warmed
2 tablespoons spreadable chive and onion cream cheese
¼ cup shredded carrots
¼ cup shredded Monterey Jack cheese
5 slices thinly sliced cooked roast beef
¼ cup leaf lettuce
Put last five ingredients on the tortilla and roll up the
     tortilla.
Have a case for the Diet Detectives? Send an email to hughesra@matc.edu or corner one of your friendly dietetics students at MATC West Allis Campus.