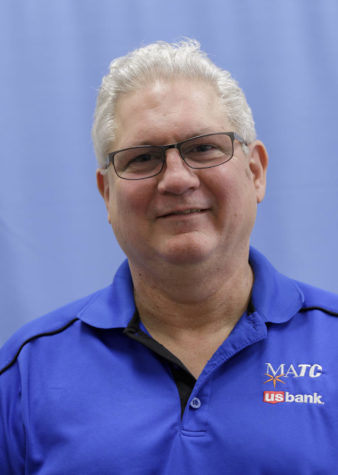 My philosophy: I believe my ultimate goal is to create a safe atmosphere of engaged learning. This is done with excellent communication skills and sound journalism practice by students. I believe that student media should always consist of student work. I have an obligation to defend and teach without censoring, editing, directing or producing the students' rights to free expression.
My background: I started out my career as a printing press operator and soon learned design and layout. I have been employed at MATC for 30 years and I have had the pleasure of working as the Times Adviser since 2006. I have had several jobs while here at MATC but none have been more satisfying than being the Times Adviser.
Other things that I find important: I have the pleasure to work with some of the best students here at MATC. This continually inspires, re-energizes me and sometimes challenges me to always work at my best and strive to give the staff of the MATC Times the best possible learning experience. I have an open door policy and strive to make myself available to students.
If you interested in joining our great staff please feel free to email me at
hansonjr@matc.edu
or call me at 414-297-7824.
Bob Hanson, Adviser MATC Times Newspaper
Dec 09, 2010

Suicide AWARENESS = Suicide PREVENTION

(Media)

Dec 09, 2010

Springsteen is back; Jay-Z hits miss

(Media)

Nov 04, 2010

Christmas albums are just around the corner

(Media)

Nov 04, 2010

Men's Golf looking for good breaks next year

(Media)

Nov 04, 2010

Stormers forecast looks promising

(Media)

Nov 04, 2010

Latino Heritage Month conference addresses immigrant issues

(Media)

Nov 04, 2010

MATC remembers Mary Teske

(Media)

Sep 16, 2010

Lost potential redeems soulful

(Media)

Jul 15, 2010

Heartbreaker recovers roots

(Media)

Jul 15, 2010

Local Farmer's Market gives more than just great food

(Media)

Jul 15, 2010

Helping hands to REACH your goals

(Media)

May 13, 2010
May 13, 2010

Enjoy this electronic version of the Times

(Story)

Apr 22, 2010

Show your school pride and become a Student Ambassador

(Story)

Mar 25, 2010

Hendrix Experienced

(Media)

Mar 25, 2010

Hypnotist captivates West Allis Campus

(Media)

Mar 12, 2010
Feb 25, 2010
Feb 11, 2010

Atlantic releases chart busters

(Media)

Dec 10, 2009

True essence of a performer's being

(Media)

Dec 10, 2009

Women's Basketball handles Fond du Lac

(Story)

Nov 19, 2009

Out of My Hands rocks

(Media)

Nov 19, 2009

Cirque du Freak: The Vampire's Assistant – a gothic fairy tale

(Media)

Nov 19, 2009

Obama announces his educational plan in Madison

(Media)

Nov 19, 2009

Being thankful for that which matters most

(Media)

Nov 19, 2009
Oct 29, 2009

Miranda Lambert's 'Revolution' kicks butt; 'Los Lobos Goes Disney' spells FUN

(Media)

Oct 29, 2009

Roundy's annual food festival delivers positive results

(Story)

Oct 15, 2009

Ghostdini is a good, hilarious, lively CD

(Media)

Oct 01, 2009

Beatles box set well worth the wait

(Media)

Sep 17, 2009

Tunes of our Times

(Media)

Jul 02, 2009

Summer releases are out

(Media)

Jul 02, 2009

Out of bad comes something good

(Media)

Jul 02, 2009

Grants may help displaced workers

(Media)

May 14, 2009

Another Dylan album

(Media)

May 14, 2009

Student designs handbook cover

(Story)

Apr 23, 2009

Respectable Country

(Media)

Apr 23, 2009

Culinary Arts students learn from two famous chefs

(Media)

Apr 23, 2009

Postcards from the front: the Impact of the war

(Media)

Apr 23, 2009

Students delight in ethnic pride

(Media)

Mar 19, 2009

War Child Project for a great cause

(Media)

Dec 04, 2008

New releases, few surprises

(Media)

Dec 04, 2008
Dec 04, 2008

Fire program blazes the way

(Media)

Nov 20, 2008

Williams does her best work yet on "Little Honey

(Media)

Nov 20, 2008

Oak Creek Student Senate is the voice of the students

(Media)

Oct 30, 2008
Oct 30, 2008

The Clash mixes punk with reggae, rockabilly, funk

(Media)

Oct 30, 2008

A new day needs to come

(Media)

Oct 30, 2008
Oct 30, 2008

The Times staff does not endorse nor support any candidate.

(Story)

Oct 16, 2008

DiFranco's latest another good one

(Media)

Oct 16, 2008

ICE your cell phone safely

(Media)

Oct 16, 2008

Aids Walk Wisconsin 2008

(Media)

Oct 02, 2008

Fix your computer for 5 bucks

(Media)

Oct 02, 2008

Nelly's getting in the way of his own album

(Media)

Oct 02, 2008

50 years of Times history

(Media)

Sep 18, 2008

50 years of history

(Media)

Sep 18, 2008

B. B. King's best album yet

(Media)

Sep 18, 2008

Students cash in on Oak Creek job fair

(Media)

Aug 28, 2008

Summer releases cover gamut

(Media)

Aug 28, 2008

A Message from the Athletic Director

(Media)

May 16, 2008

this is just a test

(Story)

May 09, 2008

Mixing old-school gameplay, new fun

(Media)

May 09, 2008

Madonna's sweet as candy; Winwood's "Nine Lives" a winner

(Media)