Senator Baldwin brings the GREEN
U.S. Senator Tammy Baldwin visited the MATC campus Jan. 22 to tour the college's Electronics Technology Laboratory and the Women in Technology Center.
While on campus Baldwin spoke about her new legislation, the Grants for Renewable Energy Education for the Nation (GREEN) Act. GREEN allocates competitive grant funding for clean energy career and technical training programs so that students are better trained for postsecondary education and better equipped for the high-skilled jobs of the future.
Senator Balwin was welcomed by Dr. Michael Burke, MATC president; Morna Foy, Wisconsin Technical College System president; Dr. Vicki Martin, MATC executive vice president and provost; and Dorothy Walker, MATC School of Technology and Applied Sciences dean.
Serita Campbell, a stand- out student who received her Associate of Arts degree in Computer Electronic Technology in December 2013, is currently completing her Electronic Engineering Technology degree, which will help her gain entry into the Milwaukee School of Engineering programs with advanced standing.
Campbell is currently an MATC employee and works in the Women in Technology Center where she is constantly sharing the joys, motivation, and inspiration the center has provided her. Senator Baldwin visited the Women in Technology Center and observed demonstrations of electrical applications, and the solar panels designed by Campbell.
Senator Baldwin's tour of the college's Electronics Technology Lab highlighted the cutting edge technological advancements MATC's students are making, and focused on joint venture projects MATC has with the local green industries. ABB Company, a global leader in power and automation technologies, provides products, services and solutions that increase productivity and maximize energy efficiency. ABB recently made a donation of $75,000 to the lab to give the students relevant experience on the latest equipment, and assist with training the students with the skills for employment with ABB.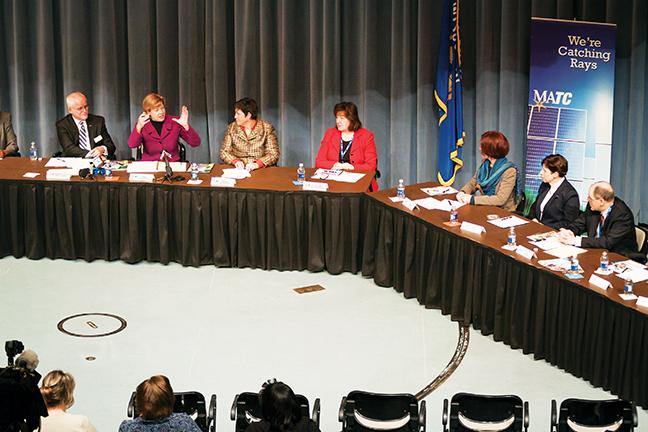 "The company is very pleased with the opportunity to partner with MATC, and the students here are outstanding," said Joe Carey, ABB industry application engineer. ABB also has a robotics manufacturing plant in Michigan, and the company is discussing ways to impact robotics training at MATC. ABB has recently hired two MATC graduates, and plans to continue to provide funding for training excellence. "MATC is in constant communication with the company to ensure that the programs here continue to meet their needs," said Jeff Roepsch, of Johnson Controls.
"MATC students can hit the ground running, and are very well poised to keep up with, and meet the challenges in, the automotive industry," said Gary Beier, vice president, Foundation of the Wisconsin Automobile & Truck Dealers Association.
"Over the past several years, Wisconsin's technical colleges have created cutting edge sustainability programs in areas like wind, solar and geothermal. We've also 'greened' our remaining curriculum by including sustainability concepts in sectors including agriculture, construction and health care. The GREEN Act supports and advances this work in a ground-breaking way," said Foy.
The GREEN Act is funded with $100 million and fulfills a key need by creating a bridge between secondary and postsecondary schools so that students can transition from high school with technical knowledge that will be expanded and honed in a postsecondary environment. The bill allocates competitive grant funding for clean energy career and technical training programs.
Postsecondary institutions, local education agencies, career and technical schools, and community partners will use the grants to enter into partnerships to develop these training programs. The bill also provides opportunities for technical schools to upgrade their own energy systems to serve as model training facilities.
"
MATC students can hit the ground running, and are very well poised to keep up with, and meet the challenges in, the automotive industry"
— Gary Beier, vice president, Foundation of the Wisconsin Automobile & Truck Dealers Association