Lavishly living on a student budget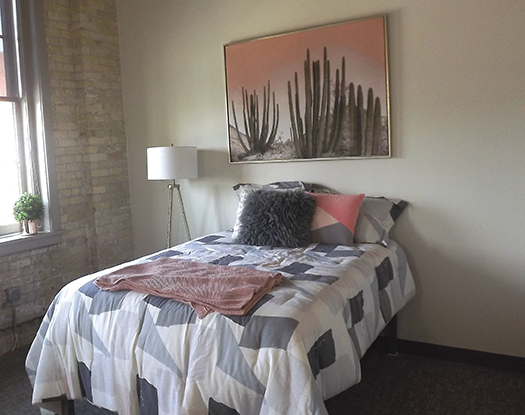 Hang on for a minute...we're trying to find some more stories you might like.
MATC has recently paired with Eleven25 at Pabst to provide students with a luxury apartment close to campus and within a student's budget. The address is actually in the name.
Eleven25 at Pabst is located at 1125 N. Ninth St., just down the street from the Downtown Milwaukee campus. Formerly Eleven25 was the Pabst Brewing Company bottling house. Now the historic beauty has been remodeled into luxurious student living spaces.
The partnership with MATC allows students to lease a bedroom for a special rate of $625 a month. Since the lease is by the bed if you don't have a roommate, or the roommate bails on you, you're not responsible for covering their half of the rent. The $625 includes air conditioning, heat, water, electricity, gas, Wi-Fi, and a full access gym. Besides cable television there also is a $100/month fee for parking. The site offers five different restaurants, which include: The Gouda Girls, Meat on the Street, Tokyo Express, Hannxi Express, and Ashley's Que Grill & Bistro. A  7-Eleven store is expected in the near future.
Though the website nor tour guide mention a credit score requirement, William Humphrey, Automotive Maintenance Technician and Audio Production student, shared his difficulties when applying. "Well, it was sort of complicated to try to move into that place. It was difficult to get approved because I did not have enough credit. I liked a lot about that apartment, unbelievable how they designed it. We usually don't see things like that anymore," stated Humphrey.
If you are interested, visit  Live-Eleven25.com, which allows you to take a virtual tour as well as submit your application for housing. The MATC contact person with Eleven25 is Alaina Schaefer, leasing and marketing manager.
She can be contacted at 414-376-7300 for an in-person tour or to answer any questions.