A chance to walk in others' shoes
Hang on for a minute...we're trying to find some more stories you might like.
On Oct. 21, 48 MATC students participated in the Walk in our Shoes event hosted at the downtown Milwaukee campus by the MATC world language department.  It was a powerful Latino simulation experience that was designed to help participants understand what it's like to live as an immigrant in our community.  The object was to focus and sensitize participants to the realities faced by area immigrants.
Students arrived at 10 a.m. and were quickly equipped; some with identification cards, some with work permits, some with money and other items to assume the role of a Latino individual.  Students received a quick briefing and then were told that they had certain tasks that they had to accomplish over the next 12-minute days.  This simulation was not a game but rather a bird's-eye view of some of the obstacles and frustrations that an immigrant could face. 
As the bell sounded, participants needed to move from various stations, which included the Department of Commerce and Justice, the employment office and the Department of Education.  In addition, a "traffic official" frequently made traffic stops only to discover that some "drivers" did not have a license.  In many cases, it resulted in a fine or even time in jail!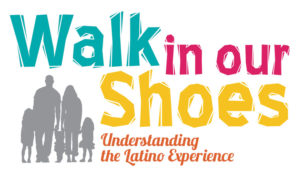 As in real life, participants struggled to see the officials in charge, as well as having the proper documents to cash checks and purchase food for the week.  As the bell sounded, students rushed to achieve their to-do list for that day, only to become frustrated when the line became too long or they couldn't find an interpreter to help them with their forms. By the "fourth (mini) day," participants had gotten a true flavor of what it was like to be an immigrant; frustrations and victories alike. 
At the end of the simulation, there was time to debrief and to share student experiences.  The final session turned out to be the most moving and powerful part of the day as students shared their own stories of immigration, both within the simulation and in real life.  Many students were moved to tears as the personal stories were shared.  Every student commented that the Walk in our Shoes event had increased their understanding and sensitivity toward immigrants, and had impacted them in a positive and moving way.  Walk in our Shoes turned out to be a huge, transformative and bonding experience!
In the future, the world language department would like to have another Walk in our Shoes event but this time opening it up to all MATC students and having it at a variety of campuses.  For more information, contact Deborah Hoem-Esparza, coordinator of the world language department, at hoem-esd@matc.edu.