42U in the clear for the year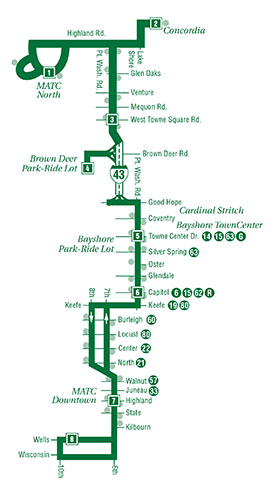 Hang on for a minute...we're trying to find some more stories you might like.
Due to an over $800,000 short- fall, the Milwaukee County Transit System (MCTS) was scheduled to discontinue nine bus routes this year, including the 42U bus route that services:  MATC Mequon campus, Concordia University, Brown Deer Park-Ride Lot, Cardinal Stitch University, Bayshore Town Center, Bayshore Park-Ride Lot, MATC Downtown Milwaukee campus, and downtown Milwaukee.
The 42U creates a connecting loop between downtown, Bayshore and the North Shore for students, staff and community members. MCTS cited lower ridership and the cost of operation as the justification for considering cutting the 42U bus route along with eight others.  But students are in the clear for at least one more year as MCTS is allocating funds from an over $400,000 surplus and $200,000 in budget cuts to cover the bus routes previously on the chopping block. 
This is great news for the MATC students who rely on their school-provided UPASS and MCTS as transportation to get back and forth to campus each day. For some students, the bus is the only transportation option they have. Deshunna Parker – Goode, Liberal Arts student, has already experienced the effects of changes with the 42U bus route. She was frustrated about the planned route closure saying, before breaking news of the route continuation, "Last fall semester I was forced to drop out of my classes that were at night simply because of the bus and its new schedule. Now that the 42U is thinking of cancelling the bus as a whole is not only a big disadvantage to myself, but for other students as well. How am I going to get to and from school? I don't drive, so what other transportation is there for me if there isn't a bus that comes out to the Mequon campus?"
Students, faculty and staff also rely on the 42U bus as an essential connection from downtown to the north campus. Public transportation allows staff and students the option to park their cars and save time, money, and forgo congested parking by boarding the bus. In addition, the bus is often the only option for commuters with one-car households and when emergencies arise. James Standberry, nursing student, said, "I have been riding the 42U since I started MATC a few years ago. If I'm not driving to school, the 42U is the bus I would use three days a week this semester to go to Mequon. This is the bus I have found to be extremely helpful when needing to get to school, especially when having my car in the shop, or coming from a time where I shared a car with my parents and sister. It's nice not to always have to drive plus it saves me money, taking the bus."
For students that rely on the 42U bus, the possibility of the route elimination would have left them dire decisions to make regarding finding ways to continue pursuing their education. When asked about possible transportation alternatives had the 42U been cancelled, Parker – Goode stated, "There isn't an alternative for me because I don't drive and if I do get a ride, I have to find a way to pay that driver to take me to and from school. It will cost me more time and money because I will have to schedule my classes around my driver's schedule and also have to pay them for their time. I am a student that uses this bus day in and day out, and if the bus is cancelled, I have no clue how I am supposed to make it to school." Standberry echoes these sentiments, adding, "If I don't have my car for some reason, such as it being in the shop, I won't be able to attend classes at the Mequon campus. I would have to choose somewhere else to go to take classes."
The MATC administration took MCTS proposal to eliminate route 42U very seriously and advocated to maintain access for students when meeting with Milwaukee County Board supervisors on Jan. 17. Archie Graham, director of Student Life, expressed MATC's support for student transportation on the 42U and the possibility of its cancellation, explaining, "… It [was] a dire situation that we faced … because we're talking about student access and how can you deny student access. I mean, when you think about the educational arena, the most important aspect of getting education is to get there, get them in the door. If we can't get them to the door, they can't get education."
In addition to the surplus and budget savings that MCTS used to re-allocate funds to cover the 42U and other bus routes, another important resource is the $1 million financial investment that the school has made into the MCTS through the UPASS program to ensure transportation for students. The 42U route continuation brings a sigh of relief for riders knowing that student attendance and learning will not be interrupted this year.
Wilma Bonaparte, vice president, MATC Mequon campus, stated in response to the news of the 42U continuation, "We're grateful for the decision to maintain this lifeline for our students, connecting them to education and employment. This service is especially important for students with limited income. We look forward to continuing the conversation about ensuring access for students and industry."Photo by Courtesy of Milwaukee County Transit