Citywide initiative helps boys and men of color become heros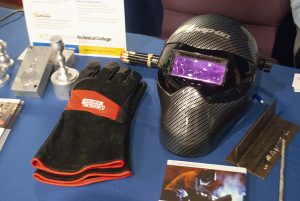 Photo by Valerie Evans
The Milwaukee Boys and Men of Color celebrated their fifth annual week of activities Oct. 1-6. The week focused on issues that men of color face and was a way for the men to connect and celebrate with one another. The first day of activities kicked off with a breakfast held at MATC.
The purpose was to inform participants about the current events planned in Milwaukee and how men of color fit into these events. Discussions about how important education is also was a topic.
The event on Oct. 2 was held at the United Way of Greater Milwaukee and Waukesha County and focused on diversity and inclusion in the workplace. A panel of human resources professionals held the discussion on the importance of having an inclusive and respectful workplace.
Later that day an exercise in "mindfulness" was held. The men were informed about the importance of controlling stress, improving their health and practicing breathing techniques. Many men of color do not practice any form of mindfulness; stress can lead to many future health problems. On Oct. 3 the men visited Kenilworth Gallery East. This gave them the chance to express themselves through art. This fall the Art Start Portrait Project is starting the public campaign "SeeMeBecause," which is centered on people of many different identities.
On Oct. 4 the participating men got the chance to go to a mentoring program at the new Milwaukee Bucks arena, Fiserv Forum. This week ended at a fatherhood summit that took place at the Greater New Birth Church campus.
Many of the people who attended were offered child support services, driver's license recovery, criminal record expungement, health screenings, mental health education and resources, housing and family services.
This annual event will continue to help men and boys of color strengthen their community.