Winter student Commencement Speaker Inspires Fellow Classmates
Tammy Jo Scholler encourages everyone to follow their dreams
The Power of Intention is the name of a book written by Wayne Dyer.  It is also a phrase that could be used to help describe the deliberate style of Tammy Jo Scholler.
In 2018 while thinking about her future, Scholler did two things. First, she enrolled in the Human Services Program at the College. Then she wrote a graduation speech and hung it on her refrigerator, where it stayed for two years.  Last month, the 4.0 student was named the student speaker of the Winter 2020 Commencement Ceremony.
Among other things, Scholler's qualifications and preparedness closed the deal. "I wanted to work towards this," she said. "I had my application that I complete two semesters ago, my essay that I was going to submit, and I already had references from instructors," she said.
Scholler originally started her college journey at Mount Mary where she studied Elementary Education. Unfortunately, life threw her a curveball and she set her formal education aside. During that time, her father died, she becomes pregnant, and divorced an abusive husband. Her priorities shifted to being the best parent she could be to her daughter Madyson.
Twenty-two years later her life unexpectedly collided with MATC.  "A friend posted something on social media about the MATC Promise," she said. "My initial thought was, hmmm, what is this about?" she added.  After a bit of research, Scholler discovered she qualified for the program and jumped at the opportunity to resume her education. Her schedule was already busy. She was working full-time (as a court-appointed adviser to families and parents), and heavily involved in the community. She volunteers for numerous organizations including the Wisconsin Father's Rights Organization and the Victory Garden Initiative. Regardless, she felt that this was the perfect time for her to go back to school.
At the same time, her daughter Madyson was making her way through Minneapolis School of Art and Design on a full scholarship. They became a great source of motivation for each other.  "I made a deal with my kid. I told her hey I'm always motivating you, when are you going to give me twenty bucks for making A's?" She joked.
Scholler also credits the Human Services Program instructors, her classmates, and MATC advisors for adding extra motivation to get her through the semesters. Ironically, when speaking about her they feel the same way and more. There is a running theme in their description of her:  enthusiastic, selfless, and authentic.
"What was especially impressive to me about Tammy Jo was how engaged and supportive and collaborative she was with all of her classmates," said Human Services Program faculty member Sandra Chavez.  "Students would often ask Tammy Jo for assistance with technology or clarification about assignments and so on. I was always impressed by how generous she was with her time and how collegial she was with her classmates.  They, in turn, were very supportive of her as well," said Chavez
Instructor Marlene Dombrowski admires Scholler's thirst for learning. She also joked that Scholler is one of the few people who read her Dissertation on Milwaukee County Child Welfare Workers.  "Her asset to the field of Human Service is her willingness to recognize the need for change," said Dombrowski.   "Many of our systems designed to Help People and Fulfill Unmet Needs aren't working.  We need professionals (like Tammy Jo) to work on developing resources and advocating for change in government policies at the grass-root level.  Tammy Jo displays the energy and commitment required to be effective in the field of Human Services," added Dombrowski.
Scholler's desire to create a safe space and be a lightning rod for solutions will also leave a legacy at the College.  While having a discussion with Advising Specialist Kyle Hayden, the two discussed the events revolving around the killing of George Floyd in Minneapolis.
"We needed to have a pl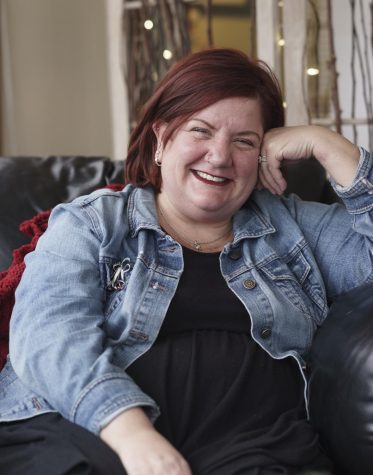 ace where anyone could come and have a safe space and feel legitimate and have the conversation from any side for the sake of understanding. I did not want to preach, I wanted to listen and advocate because we knew that change was needed,"  said Scholler.
That conversation led to the formation of a new student club.  The BIPOC Allies student organization.  Hayden knew Scholler would be the perfect person to be its founding leader.
"Simply put— Tammy is a bold, in your face, highly compassionate student leader; one who often openly voiced her concerns about issues impacting students on campus far before she became the President of the BIPOC Allies student organization this past fall. "said Hayden. "Since becoming president, she has helped shape what student allyship looks like at MATC and has continued supporting the student body & college by collaborating with the Student Government Association (SGA), Black Student Union (BSU), Latinx Unido (LU) and the African American Network (AAN) Student Voice Committee, he said. Hayden added that Scholler has left an unforgettable and lasting impression on the institution.
Scholler's dedication to making things around her better make a natural fit for the industry of Human Services.
"I believe Tammy Jo is very sincere and dedicated to contributing to the greater community in her personal life as well as her professional life in her future profession as a Human Service worker," said Chavez.
In January 2021, Scholler will begin an internship in Wisconsin's Governor, Tony Evers, Milwaukee office. She also has thoughts on possibly going to law school.
"It's bittersweet to come full circle but it has made my journey really special," said Scholler.  "It's also dynamic in a way that I know I have the tools to move further along. This will enable me to do even more. This is just the first step," said Scholler.