Ambitious graduate dreaming big
Alumnus believes entrepreneurship diploma opened the door for opportunities
Ja Quin Brown-Holland graduated with a Technical Diploma in Entrepreneurship from the college in December.  Fast forward three short months and the alumnus already has his eyes set on a possible return.
Laying the groundwork for big life plans, Brown- Holland is considering enrolling in the Physical Therapy Assistant Program at the college. Among other things, he counts his positive experiences at the college as a reason to return.
"I got to meet a lot of people," said Brown-Holland who was the college's brand ambassador for the Milwaukee Bucks. "It kind of forced me to be a people person and reach out." He hustled to generate interest in the Bucks by marketing discounted home game tickets at all four campuses and throwing watch parties for major matchups like the playoffs. The experience was a win-win-win for the Bucks, students, and Brown-Holland.
As a student in the entrepreneurship program, he was able to use his own product ideas and develop concepts that were more viable for existing customer needs. He credits instructor Armen Hadjinian for proving additional motivation. Brown-Holland stated that Hadjinian was an "amazing" teacher who "gave wonderful insight, I really enjoyed his class."
Hadjinian highlighted two qualities that help to make his students successful: humility and the willingness to think critically about assignments and projects. He noted that Brown-Holland possesses both. "He's very outgoing, very polite, very humble, very helpful," said Hadjinian.
Brown-Holland's path to completing the entrepreneurship program was not linear. He started college at UW-Milwaukee studying kinesiology. After three semesters in school, while working two jobs, he chose to take time off. Two years later, he began the entrepreneurship program at MATC. Brown-Holland attributed his success and ability to persevere to the college's encouraging faculty and staff. "The support is what did it for me, that's what kept me going," he said.
Since graduating, Brown-Holland has been getting back to the gym and working as a personal trainer.  He also assembles engines at Harley Davidson and was recently promoted. In the future, he wants to build a career as a fitness model, build his own home "from the ground up", and run his own business.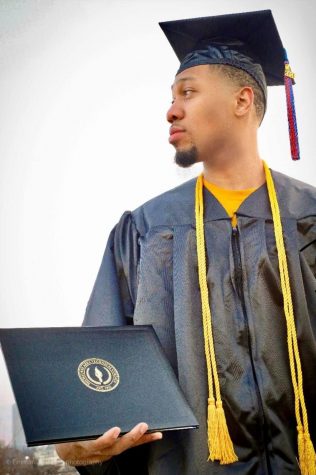 Regardless of life's twists and turns, it seems likely that Brown-Holland will keep seeking out opportunities and applying his entrepreneurial mindset.