This story originally appeared in the October 8 – November 4 2021 issue of the MATC Times (print edition).
     Four years ago, Keshia Herrington's parole officer gave her two choices, a life behind bars or a chance at a life. The decision would not easy. She was a heroin addict. She was getting older and knew she had to make a serious attempt at turning her life around. Herrington decided to take a chance at life. 
     "I had reached the end of my rope," Herrington said.  "In 2017, I was in such a low place that I was actively trying to commit suicide."  
     At that point in her life, Herrington had been an active substance abuser for 10 years. Instead of earning A's, she was racking up mugshots (at least 30), frequent stays at the local jail, and years of failed attempts at sobriety.  
     But one final arrest landed her in jail, again. But it also gave her a chance to change her path in life. Little did she know she would one day find herself standing at a podium giving the commencement as an MATC graduate.
     Her journey to that stage was not one she planned on. Growing up in Northern Wisconsin, Herrington was a born leader, a go-getter. In high school she excelled at everything she tried including drama club and choir. She was also the school's Prom Queen. She knew what she wanted out of life but somehow lost sight of that path when she became addicted to drugs.
      According to the Wisconsin Department of Health, the percentage of drug deaths related to heroin in the state reached its peak in 2016. The percentage of total drug deaths from all forms of opioids topped 80.1%. Nearly 35.9% of those deaths involved heroin. A number higher than both cocaine and meth deaths. 
    This trend was occurring all over the nation. It didn't help that Wisconsin lagged behind the country in inpatient care and residential treatment facilities – a key factor in aiding long-time substance users.  In 2017, the federal government granted states over $2.4 billion to help combat the crisis. These funds helped to increase the number of treatment facilities, substance abuse advisors, and counselors. This may have also helped Herrington avoid becoming just another number on a chart.
    One day she received a visit in jail from a no-nonsense parole officer who would play a significant role in her future.
     "I was detoxing like so many times before, and facing eight years in prison," said Herrington. Their conversation would help alter the trajectory of her life.
    "She said 'Keshia you can give up. You can give up now because I do not think you can be competent enough to save your own life. Or you can go to a treatment center,'" recalled Herrington. 
     The decision was easy, the work was not. When she walked through the doors of the treatment center, she was immediately cut off from society for over a year. 
     "I went through a self-discovery," said Herrington. "It was so hard to do but it was equally helpful to me. That was my journey. I needed to be plucked out of society and have someone who cared enough to help me work through all of the trauma I went through in order to feel the need and want to save my life," she said.
    Herrington was released from the treatment center in May of 2019. She thought a lot about work. She now knew her role in life would be to help others with recovery. 
     "I didn't want a job that I had little value or that I didn't take seriously," she said.  Her boyfriend, now husband, suggested she enroll at MATC.  Herrington did her research, met with an advisor and started classes three months later.
    "Keisha is a sponge for knowledge, always seeking information for professional development," said instructor LaTrice Buck. "Her love for the field of Human Services is evident in her submissions and peer interactions," she said. 
   Herrington believes the college has the best instructors for human services. She says what sets them apart is how in-depth they are about what to expect in their career field and preparing them for the unexpected.  She discovered this first hand during an internship at a mental health behavioral clinic.
     "MATC instructors prepare you for the extra things. The real-life scenarios that they have encountered. We had the situational knowledge that the four-year university people did not," Herrington said. "It was obvious that they were strictly taught from a book, regimented to a curriculum and really did not know what to do in certain circumstances. Having hands-on knowledge helped me to perform on my feet when things got rough," she said.  
   One of the many instructors she credits with providing valuable situational learning is human services Nicole Jackson.  
     "As an instructor seeing students grow is such a wonderful feeling. I have been proud of her personal and academic growth," said Jackson. "She is very deserving of any recognition. Her humble nature and genuineness combined with her ability to be transparent makes her so unique." Said Jackson.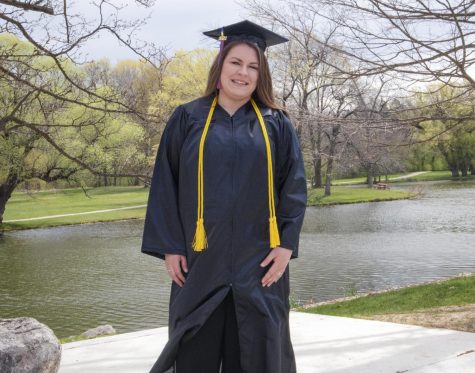 The virtual school year of 2020-2021 was a banner year for the human services pathways. Both student commencement speakers, Tammy Jo Scholler in December and now Herrington graduated from that cohort. A fact not lost on its Dean Brian Stout. 
     "One of the reasons why our Human Services students make great graduation speakers is the fact that many of our program students have overcome significant barriers in their lives to achieve their academic and professional goals. They are passionate about working with people and bettering the lives of others," said Stout. 
    April 6, 2021, marked four years of Herrington being clean.  She does not take a single day for granted. 
"Looking back some days it feels like yesterday. Sometimes it is scary to look and think that was my reality not too long ago," Herrington said.  
She said looking back on those days and at that period in time, these things happened to a completely different person.
     "It took me a really long time to get to this point. The first year was critical, which was also a good reason I was away. Recovery is a rollercoaster that never ends," she said.
Herrington plans to continue her work in the addiction and recovery field, and ultimately earn a doctorate degree in psychology. Her life's journey thus far has taught her to embrace and celebrate the victories in life. She hopes that message will resonate with everyone who experiences her commencement address. 
    Her moving speech to the class of 2021 and future endeavors leaves no doubt that four years ago she chose wisely.