Sybrina Fulton bares her soul at celebration
Just three short weeks after her youngest son turned 17, Sybrina Fulton, a mother living an average life in Florida, got the most chilling phone call of her life. Trayvon Martin, her teenage son, had been shot dead by George Zimmerman.
Fulton shared her story with an audience of nearly 200 people eating their lemon sorbet and listening to her tell her story. In Milwaukee for her first time, the mother gave the keynote speech for the 22nd annual Soul Food Celebration; a food for thought dinner presented by the Black Student Union (BSU) and the Office of Student Life. As she shared her story, she described the scene of her son lying in his white gold-trimmed casket, wearing a white tuxedo and the never ending agony of the worst day of her life.
"Awareness" is the message she is delivering around this country and to all who will hear her. Awareness that this awful day is being shared by far too many mothers and fathers, sisters and brothers, sons and daughters in this hate consumed country we all live in, according to Fulton.
Fulton continuted, "Awareness that we have to get back to the basic respect for life that seems to be lost in our stampede to arm ourselves against the ever present dangers of life. Awareness that this can happen to any of us, and is happening to all of us."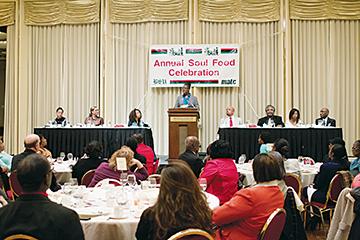 The Trayvon Martin Foundation is an organization  Fulton created to advocate. She passionately shares her ideas on how more mothers and fathers can make their vulnerable children aware that the "Stand Your Ground" law, and other laws like it, have put a target on the backs of young black men in America.
Fulton stated that her son was unaware. He was talking on his cellphone, unaware of the danger lurking just feet away, ready to take his life. Her son was living his life unaware of the dangers of hate, and mental illness that are now holding our beloved country captive.
This mother admonished the audience for not being registered to vote and voting in every election. She admonished the audience for being unwilling to serve jury duty when summoned. Fulton further urged the audience to bring their perspective to the court system when called so  that decisions against black lives are not always the bleakest decisions possible. Fulton offered hope to a hopeless situation that most attendees don't have to carry with them daily, but may know someone that does.
Fulton urged parents to spend more time building up their youngsters than filling them with despair. The solution comes from within. "We have to make sure our children are putting value in themselves so that others will put value on them," said Fulton.The Trayvon Martin Foundation spends time with many grieving families.
About the Contributor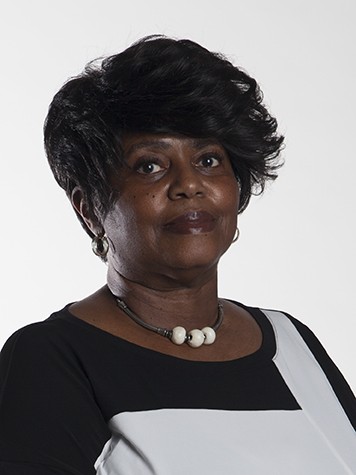 JoAhne Penney, Mequon Campus Editor
A naturally nosey person, JoAhne Penney has enjoyed finding out what is going on, and telling others all of her life. She has been out of school for decades,...