Harmon – listen to your body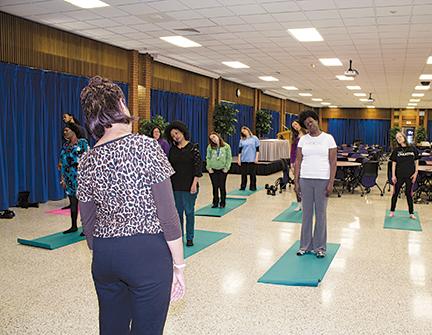 "Listen to your body" are words that yoga instructor Laverne Harmon knows too well. She demonstrated some basic yoga techniques to some early risers on a Saturday, at the downtown Milwaukee campus.
This was just part of the agenda for the Displaced Homemakers workshop that included:  smart and responsible shopping; research for life; tips for using your voice effectively, through an MATC Vocal Skills Seminar.
The displaced homemaker is not the individual who stays home, but more about the individual who is still working. In what used to be a dual income household, the loss of that other income can create anxiety and stress.
This was a collective project put together by women on the MATC staff. One of the presenters at the weekend session was Laverne Harmon, an invigorating and accomplished yoga instructor.
She has practiced Hatha and Kundalini yoga for over 15 years. She has taught at Summerfield Methodist Church, Astor Street Dance Studio, the Martin Luther King Jr. Center and Studio Jam.
Harmon is also a participant in the Avenues to Creating Community, Employability, Satisfaction and Success (ACCESS) program here at the downtown Milwaukee campus. She lead a very low-impact session and stressed that, "No one should do more than they are comfortable doing."
Ann Hecht is one of the first persons you'll see at the Campus Counseling and Advising Center, where she works as part of the support team. She is also an experienced athlete who has completed three marathons, 10 half – marathons, five triathlons, two 200 – mile relays 20 5K and six 10K races. She shared ways to stay in shape and the ways in getting there. Amy Waldman was instrumental in the information and coordination of the workshop. She coordinates the  ACCESS program at MATC.
Not only were her bios of these individuals helpful, but she managed to put together an awesome workshop that everyone enjoyed. She also participates in yoga, in-line skating and is trying to learn how to climb a silk rope.
Other keynote speakers were: Meghan Rose, who works in the library providing valuable information to the students, and Ben Merens, who is a communications consultant, leadership training specialist and speaker. Merens, who is currently teaching at Marquette University, also gave those involved information relevant to the workshop.