New initiative strives for seamless education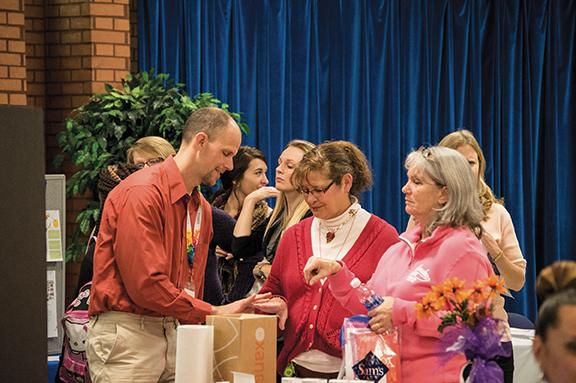 On Oct. 29 MATC presented "Our Voice, Our Future," an event hosted by the M3 (M cubed) initiative.
The M3 initiative is a relatively new project, started about a year ago. Their vision is as follows: "The creation of a comprehensive, quality public education network that lifts our city and nurtures our students as they develop into the critical thinkers, strong leaders and innovators who will help Milwaukee to thrive for decades."
The initiative is headed by Vicki Martin MATC president;  Mark Mone, UW-Milwaukee Chancellor and Darienne Driver, Milwaukee Public Schools superintendent; along with 90 additional staffers.  These three institutions have realigned funds to provide seed money to create this program and have high hopes that their investment will pay off in the near and far future.
Vickie Turner, project coordinator, explained the challenge the initiative is up against. "We don't know what happens when we pass the baton from institution to institution, so we want to gather data that will help us make transitions more effective and streamlined," she said.
Through data mining and student feedback the M3 initiative hopes to make many improvements to these three urban institutions.
Two of the initiative's short-term goals are to increase the completion rate for MPS high school students to 60%, and to increase enrollment of MPS graduates in postsecondary institutions within six months to 50% by 2017.
Their long-term goal is much more complex: transform the future of Milwaukee through education through these five steps:
Raise aspirations, readiness and student success.
Educate families about the value of postsecondary learning.
Align curriculum and services from middle school to postsecondary education to continue education after high school.
Create and cultivate a culture of learning in which there is an expectation to continue education after high school.
Engage the student voice.
Archie Graham, director of Student Life, expressed the intent of the "Our Voice, Our Future" event held at MATC, "We want to get feedback from the students on their comfort levels and how to create a system of transition between all three institutions."  Students from all three institutions came together to not only share thoughts, feelings and suggestions but also to partake in a team-building community service project led by the United Way.
Students from MATC, UWM and MPS made after-school snack packs for kids who attend the United Way's after-school programs.
Graham then led an activity where students and staff introduced themselves to the group. The event ended with students breaking off into groups for more focused discussions on how to improve their schools.