Students learn life lessons through laughs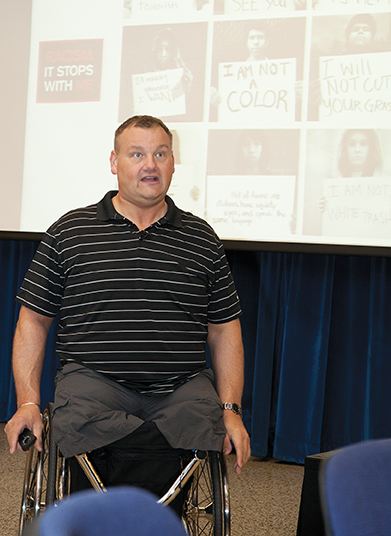 On April 4, MATC's  Downtown Milwaukee campus welcomed diversity educator and powerhouse speaker, Matt Glowacki, to give an unconventional and thought- provoking session on lessons in life.
Glowacki's motivational talks are the perfect mix of a diversity survey course blended with relevant pop culture. Glowacki travels all over, spreading his version of culture-relevant diversity education, commenting, "I am the most booked diversity speaker [in the country].
Glowacki started the conversation by addressing the most common questions and unspoken curiosity about how he happens to roll coolly through life in his self-made wheelchair. Glowacki relayed in reference to how many people view his mode of transportation, "My disability exists more in their mind than mine." 
Glowacki introduced his unique definition of diversity as, "Learning more about yourself through experiences with others." Glowacki utilized a clip from the popular television show "Family Guy" to illustrate the important life lesson of "being happy with who you are." Glowacki educated students on terms like "lookism" and exposed the realities of the manufactured, multi-billion dollar beauty industry. Glowacki explained, "The beauty images you see are no more real than the cartoons we watch."
The group also viewed a different clip from the wildly popular show "South Park," which magnified the layers of race, discrimination, and privilege that we encounter every day. Glowacki introduced the concept of disability privilege while discussing the different layers and levels of privilege that abound in this country.
While his presentation was lighthearted and fun, Glowacki made very clear his serious end goal is "to get people to stop with information on experiences. Don't generalize that you know about anyone else's life."