To cable or not to cable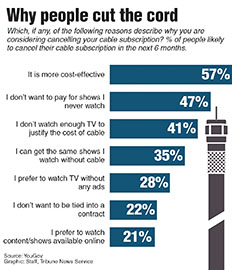 Hang on for a minute...we're trying to find some more stories you might like.
To cable or not to cable – that is the question. I'll be honest in my opinion; the cable companies are simply a rip-off. They offer these "fantastic" bundle packages that include all the "best" channels with the greatest movies.
Okay, I'll lay off the sarcasm. I'm simply expressing it the way it's advertised. To name a few, there are HBO, Cinemax, Showtime, and The Disney Channel; you know, the prime-time stations. The only problem is most of the "good" shows on the good channels play all at the same time. I know, I know; there's DVR for that, but come on, unless watching cable is your full-time job, you'll never get your money's worth, no matter how steep the discount.
We have reached an era where all things are overly convenient to attain. Everything is right at your fingertips and with entertainment being the focus. It's no wonder that even the best video hubs for movies and video games, like Planet Hollywood and Blockbuster, have become obsolete.
I remember standing in long lines every other Thursday or Friday night. My family and I would go pick up three to four movies to keep us entertained throughout the weekend. It was awesome!
The hottest new releases rented at an affordable price. Then to make your movie night complete – low and behold – Milk Duds, Sourpatch Kids, Buncha Crunch, and popcorn conveniently at the checkout.
After Blockbuster was taken over by the dearly beloved Redbox, our lives changed for the better. No membership fees, no long lines – kind of like a movie ATM. You simply swipe your credit card, select multiple movies and go. Not to mention Redbox is usually located a distance of feet from your local grocery or drugstore.
Yay! An abundance of snacks only a few steps away. Then came Netflix.
Oh, how we love Netflix. It started with a massive library of videos that were sent to you in the mail; simply drag and drop your selection in your virtual shopping cart and the weekend entertainment was on its way.
Then one day a marketing genius decided to offer hassle- free unlimited access to all the movies in the library from home for a low monthly payment. I'm excited just talking about it, it just keeps getting better!
Then there is Hulu, the Amazon Firestick, dozens of free internet movies streaming sites, and one of my favorites, YouTube. I could go on and on, but you get the point.
In my opinion, cable is like the television after-school specials, TGIF family sitcoms or the Saturday morning cartoons we all looked forward to as children.
All good for their time and well loved, but unfortunately convenience and innovation have replaced the need to have cable in the home.
Don't get me wrong. As an interior design student, I am a huge fan of the DIY Network and HGTV, although I don't love them enough to faithfully pay Spectrum a monthly bill.
Cable is great for those who really have time to enjoy the hundreds of channels offered. I will admit I was a bit harsh when referencing the bundle deals earlier in the article.
I will contest to hearing about some great packages for home internet, cable and telephone. Truth be told, cable might cater to the needs of some, but I'm going to have to say cable is just not for me.
It's too expensive, doesn't fit my budget nor my hectic schedule. I also have a smartphone that cost a pretty penny, so I predominantly use that 80 percent of the time for browsing, streaming movies, watching missed shows and how-to videos on YouTube.
Ultimately the choice is up to you. Again it's just my opinion. To cable or not to cable, that is the question. A personal preference indeed.