Abandoned hospital renovated to apartments for the homeless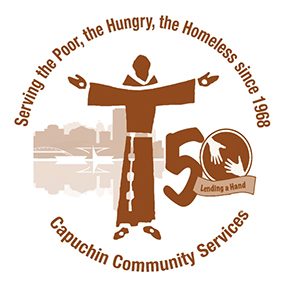 Sixty new residents are moving to our neighborhood, out of the cold and off the streets, into a permanent housing situation. The formerly abandoned St. Anthony's Hospital has been renovated and converted into permanent housing for homeless living on the streets of Milwaukee. Located one block west of the MATC parking garage on the corner of 10th and State streets, the newly remodeled building will hold 60 rental apartment units and a gathering area on the ground floor where homeless people can come inside and wait for mealtime at the neighboring St. Ben's.
Around 80 volunteers, made up of parishioners and community members, attended an open house event on Nov. 17. Volunteers helped distribute household furnishings donated by the community, such as blankets, laundry baskets, cleaning supplies and other necessities that will be given to all new tenants on move in.
Rob Roemer, ministry director for Capuchin Community Services, took some time away from a very busy open house to tell us about St. Ben's and answer some questions about the St. Anthony's apartments.
The apartments and neighboring St. Ben's meal site are connected by a hallway corridor and going forward will be joined together, providing help to Milwaukee's homeless. St. Ben's has been providing a daily meal for the hungry since 1970 and serves dinner daily to around 300 people. The meal program needs a volunteer staff of eight to 10 people to prepare and serve dinner six days a week from 5:15 to 6:30 p.m. The neighboring St. Anthony's has a waiting area on the ground floor that can hold up to 120 people and will provide a place where people can get out of the Wisconsin weather when they are waiting for St. Ben's dinner. The St. Anthony's facility will offer other resources like computer access, a reading area for adults and a laundromat, chapel and showers.
St. Ben's currently has only one shower available, often with long wait times. The adjoining St. Anthony's building will provide three additional showers, along with a barber shop with two chairs staffed by student volunteers from the MATC cosmetology department.
According to Michael Goldberg with Heartland Alliance, the building owner and developer, rent and operating costs will be paid through a combination of subsidies and by the tenants, based on their individual needs. Around 50 of the 60 apartment units are already reserved and he expects full occupancy by the end of 2018.
Tim Hinkle, public releations director for the Capuchins, added that St. Ben's has worked with MATC and ResCare, who has an office located in Foundation Hall, on a list of resources for people in need. The guide compiled by Milwaukee Police Department and other agencies from the city helps get people to resources like shelter, meals, legal aid, a crisis hotline, employment resources and many others.
Anyone interested in volunteering to help people from our community in need can check the Capuchins web site at www.capuchincommunityservices.org and click on Ways to Help.