Featured Flashback – MATC Times Editor makes history with Milwaukee Press Club Award
Victoria Magee becomes the college's first gold collegiate winner
For 92 years, the Milwaukee Press Club has recognized Wisconsin's best media outlets and journalists with honors of distinction at its annual Excellence in Journalism Awards Dinner held at the Pfister Hotel. This year, Milwaukee Area Technical College's independent student newspaper, the MATC Times, finally joined the winner's circle.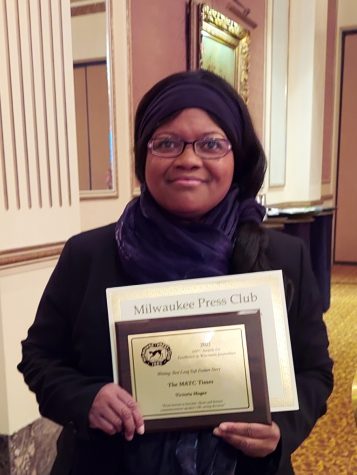 Times Editor-in-chief, Victoria Magee won the top award (gold) in the collegiate category of Best Long Soft Feature Story for her article "From heroin to heroine: Alum and former commencement speaker's life saving decision."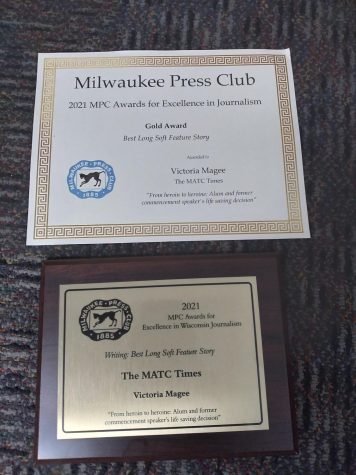 The student journalist is the first MPC gold (first place) winner in the history of the college's student-led newspaper.
"I still think I'm in a state of shock that I won," said Magee.  "Keisha Herrington has such an important story to tell about her life that I just wanted to do it justice. Hopefully her experience of hitting rock bottom then rising like a phoenix has inspired others," said Magee.
Also honored at the event were CNN's chief Congressional reporter, Manu Raju (2022 Sacred Cat Honoree) and former Wisconsin Governor Tommy Thompson (2022 Headliner Honoree).
The Milwaukee Press Club is the oldest continuously operating press club in North America.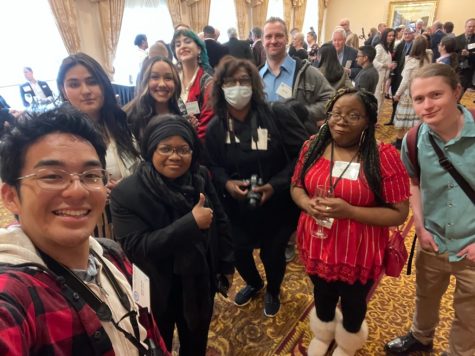 More: Alum and former commencement speaker's life saving decision