6th Street Café provides pastries with peace, quiet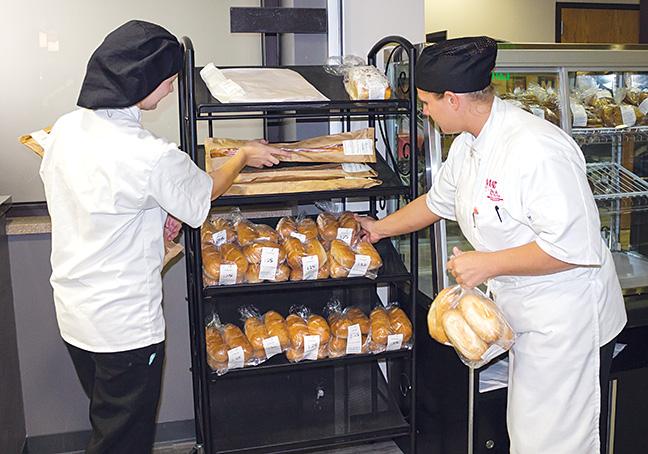 If you're looking for a place to study or read and the cafeteria is too loud for you to even hear yourself think, try the 6th Street Café. Located on the first floor of the Downtown Milwaukee campus M-building, the café has ample seating and is a more relaxed and quiet place to get away from all the stress of college for a little while.
The café  is open from 9 a.m.-1p.m. Tuesday through Thursday and has anything from breakfast sandwiches to soups, salads, coffee, soda and many other things. The café  is run by students in the Baking and Pastry Arts program. These students are graduating soon and getting ready to head out into the world of baking and working in bistros.
The instructors for the café are Andrew Schneider and Kurt Fogle. The main objective for the class is for students to know the basics of working in a bistro. The students who work in the café  are designated as Café 1 or Café  2 students.
Andrew Schneider is the Café 1 instructor. In Café  1, students learn the basics of working as baristas, how to prepare soups and salads, and some baking.
Kurt Fogle is the Café 2 instructor. In Café 2, students learn how to prepare sandwiches and also learn more advanced barista techniques.
The students' day starts at 7:30 every morning the café is open. "And they can't be late," Schneider stated. "It's like a real job, two times late and that's it." This policy prepares the students for what is going to be a reality once they graduate, which is as soon as December 2014 for most.
The students who work in the café have great plans for what they would like to do after they graduate.
Linda Thai says she will be doing working interviews. Eden Luchsinger would like to find a job cake decorating. Chelsea Martin wants to eventually open her own bakery that will be dedicated to serving diabetics.
So if you are looking for a place to study or read that is quiet where you can also get a cup of coffee or a bite to eat, consider the 6th Street Café.
It is a great alternative to the busy and usually noisy cafeteria.