Yelawolf prepares to share his "Love Story" with Milwaukee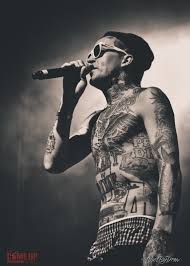 Yelawolf (born Michael Atha) is a well-known rapper who has grown to be a big star after developing a love of hip hop at an early age.   He was born in a small town in Alabama and is of Cherokee and European American heritage. He spent most of his youth in Nashville with his mother. This is where the influence of hip hop hit him. When he was a bit older, he was homeless in California. Being homeless opened his eyes and made him get back up and pursue what he wanted to do. He first got national attention when he appeared on the UPN network reality series "The Road to Stardom with Missy Elliott" in 2005. After he was eliminated from the show, he kicked off his career with several mix tapes and independent album. Later he signed with Columbia Records and is now with Eminem's label, Shady Records. Yelawolf is also well known for doing shows with Eminem, Wiz Khalifa and many more. He is currently on tour for his second album, "Love Story," and loves to share what he has in store for everyone with his new album.
CM: First time in Milwaukee?
YW: I don't remember if I was ever in Milwaukee before but will definitely have one of Milwaukee's finest.
CM: Any advice to aspiring artists?
YW: I used to say give up, so they used to give up or keep going. You have to be strong in this career. There are going to be ups and downs. You don't just have to make it to the top; you have to stay there and continue being great. Thinking about making the craftiest thing you can make. Don't write things that will embarrass you. Try and make yourself great, not just good music.
CM: What is your inspiration for your music?
YW: These days, the inspiration is melodic. I listen to the music and all the melodies and once I like it, I put in words that fit the melody.
CM: What do you like about touring?
YW: Hanging around with family and fans. They are one of the big factors that boosted my career. If it weren't for them, I wouldn't be where I am today. I don't want to give them that much credit, but, if they didn't support me or believe in me, I wouldn't have made it this far. I love my fans and I don't know what I would have done without them.
Yelawolf is currently on tour and his next stop is, you guessed it, Milwaukee, Wisconsin. He will be performing on Dec. 2, 2014 at Turner Hall Ballroom in support of "Love Story." Doors open at 7pm.