'Something Rotten!' takes the stage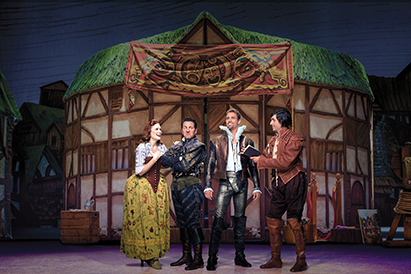 Hang on for a minute...we're trying to find some more stories you might like.
"Something Rotten!" is coming to Milwaukee at the Marcus Center for the Performing Arts, Oct. 16-21. It's an original musical comedy not based on a movie, book or other source material; it's originally directed and choreographed by Tony Award-winner Casey Nicholaw ("Mean Girls," "The Book of Mormon," "Aladdin").
The musical follows two brothers Nick and Nigel Bottom who are playwrights competing against the likes of William Shakespeare. The brothers are dying for a hit in Elizabethan London when they seek the advice of a soothsayer. The soothsayer, Thomas Nostradamus, foretells the next big thing in theatre to be a musical, where people sing, dance and act all at the same time.
Brian Cowing, Madison native, and ensemble cast member said, "'Something Rotten!' is truly a show for everyone. It is set in the 1590s, which is the Elizabethan era. It's a story about two brothers, Nick and Nigel Bottom, who are desperate to write a hit play, but they are stuck in the shadow of the rockstar writer, Shakespeare. Nick Bottom is desperate to write a hit so he seeks out a local soothsayer who foretells that the future of theatre involves singing, dancing, and acting, which is a 'musical.' Then Nick and Nigel set out to write the first musical ever, but, in all excitement, the Bottom brothers both realize that reaching the top and writing a hit means being true to themselves and listening to their heart."
"Something Rotten!" is the inspiration of brothers Karey and Wayne Kirkpatrick, who thought of the idea two decades ago. The Kirkpatrick brothers started working on it seriously in 2010 and eventually brought in British comedy writer John O'Farrell to help write the play. Karey Kirkpatrick said, "We were big history buffs. It started with, 'Wouldn't it be funny if Shakespeare's London were a lot like what Broadway was in the 1930s?'"
Broadway first-timers, brothers Kirkpatrick and O'Farrell, have experience in different creative directions. Karey is a Golden Globe Award and Tony Award nominee and is a successful screenwriter, songwriter and director, with credits including "The Rescuers Down Under," "James and the Giant Peach" and "Chicken Run." Wayne is a Grammy Award-winner and Tony Award nominee. O'Farrell succeeds in the UK as a comic novelist, columnist, and TV/film writer.
Tickets for the musical are on sale at the Marcus Center Box Office and can be purchased in person at 929 N. Water St., online at www.marcuscenter.org or by phone at 414-273-7206. Student discounts are offered on a variety of shows and with a variety of parameters. Please call the box office directly to find out more details. Tickets start at $31.
Director Nickolaw said, "I think it doesn't matter how much you know. My nieces and nephews say it's their favorite show that I've done, and they don't know any of the references." "Something Rotten!" was nominated for 10 Tony Awards, including Best Musical. It opened on Broadway in April 2015.
Cowing said, "This show is really a wonderful escape from the blues of daily life. There is no way you can walk out of this show without a smile on your face. 'Something Rotten!' also reminds you to be true to your voice and yourself. Making sure that every word, every action and every relationship you have is honest and true." He continued, "'Something Rotten!' is a true musical comedy. Audiences will really appreciate the true craft of this beautiful art form, even if you're not a huge Musical Theatre or Shakespeare fan. This show is definitely a spectacle and it's an honor to perform it every night."