Raye Zaragoza as the opening is opening eyes
On Dec. 1 the National Historic landmark, Turner Hall Ballroom, made way for the award-winning singer-songwriter and performer Raye Zaragoza. On the tail end of a summer-long tour opening for the band Dispatch, the 25-year-old, multinational (Native American, Mexican, Taiwanese and Japanese) Manhattan, New York, native is living her dream, walking in her purpose and using music for social change, one folk song at a time.
Her unique delivery of the melodic art of storytelling through music is awe-inspiring. Gracing the stage alone, armed with truth and a guitar, a near bystander clearly got more than he bargained for as he looked at me and said, "Wow, I'm impressed!" Though physically alone on the stage there is a sense of oneness that Zaragoza's music brings to the room and to the world. Though often referred to as a protest/political songwriter (her song "In the River" influenced by the construction of the Dakota Access Pipeline went viral in 2016), her music is an embodiment of the human experience
Photo by Shane W. Potter
And it's no wonder, in preparation for her performances she has a ritual of grounding herself through stretching, taking time to check in with herself (at rest stops staying active on the road by jumping rope or hula hooping), remembering why she does this and reflecting on her "through line" saying, "It's not about the notes, it's not about the songs, it's about the people and, yeah, the songs are that vehicle but it's so much more about the people, the energy, the audience and our connection more so than anything else." Her very first "real gig" was at The House of Blues in Los Angeles at age 19, performing before about 100 people, including many friends and family. That's when she had a spine-shivering, overwhelming feeling of "this is it, I just knew in that moment; I am in service to this art form, this is what I was meant to be," she said. That also explains her stage presence, very comfortable and down to earth. Her performance (coupled with the ambience of the venue) felt much like we were all sitting around a campfire amongst friends. Like the greatest of friends, Zaragoza wants the world to be a better place for us all. She also wants to be a voice for women of color. 
Growing up she said, "I did not have that many heroes to look up to that were other women of color, and that breaks my heart. I'm using my voice as a way to promote others, to promote inclusion and to give women of color a seat at the table in the music industry." She performed her crowd-moving song "Fight Like a Girl," which she dedicates to "all the women warriors past, present and future fighting for our rights to our bodies, to our lives, to make our own choices as women."  Women and men alike in the crowd were amped. Zaragoza is a very powerful, driven young woman on a mission. She is currently writing her new album due to be released next year.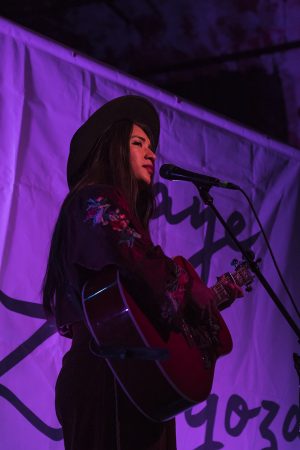 Photo by Shane W. Potter