Martinez serves up a Puerto Rician classic dish
Alex Martinez is third generation Puerto Rican decent who grew up in the suburbs and was not taught the Spanish language growing up. He says the main
thing that connected him to his culture was food.
"My grandmother was really big into making authentic Puerto Rican food," said Martinez. "We would go over to her house almost every Sunday and it was a really good time. I think that's what brought me to this field. It's cheesy to say, but it's like how food brings people together. My grandmother's cooking brought me closer to my heritage and that's really been my only connection."
Prior to attending this college, Martinez studied geology at UWM and decided that it was not what he wanted to do for the rest of his life. Like many in this position, he says he simply burned out. Throughout this entire time, the one topic that kept creeping into his mind was the topic of culinary arts. He decided to enroll in the program at MATC. "The people at MATC are what has helped to keep coming back," he said. "I really respect a lot of the teachers here like Chuck Stepanovich, Chef Kyle, Mark Young, Chef Moran, as well as my classmates like Jamee Stefanski."
Martinez selected the Mofongo recipe because it is a very traditional Puerto Rican dish and because it's a classic comfort food that just happens to be very
delicious. He plans to graduate in the summer of 2020.
Mofongo is a combination of plantains, pork rinds and garlic that is shaped then fried. Mofongo is a quintessential Puerto Rican dish and is native to the island. Usually served with a chicken-based soup the dish has achieved some national popularity and is a staple in American restaurants that produce Caribbean foods.
After an initial frying to soften them, the plantains in mofongo are typically mashed by hand using a tool called a Pilon. This tool is similar to a mortar
and pestle and breaks down, the rich starchy plantains. While the plantains are broken down the other ingredients are added into the mash. This mixture is usu-
ally seasoned than fried in some sort of animal fat resulting in a rich flavorful dish.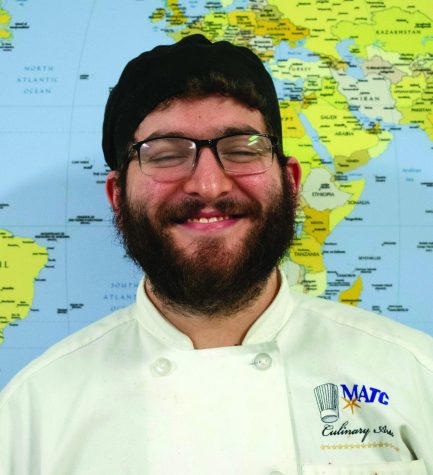 Mofongo Ingredients
3 green plantains
1 tablespoon crushed garlic
1 tablespoon olive oil
1⁄2 lb. chicharrón (fried pork
rinds) or cooked bacon
(crumbled)
Vegetable oil for frying
Instructions
1. First peel the plantains and cut into inch-long slices.
2. Fry the slices to soften them, then set aside.
3. Mix together the garlic olive oil and chicharron or bacon.
4. Mash the plantain a few at a time in the Pilon – a mortar and pestle, usually wood (never use a food processor) – adding a little bit of the garlic
mixture. You will have to work a few slices at a time. When all done, mix all the batches together for even distribution of seasoning. Add salt if needed.
Keep forming balls until mixture is all used up.
Martinez is a student of Chef Robert Barton. International cuisine is an eight-week course that covers the cuisines of Latin America/Europe, the Mediterranean/Asia and America. If you are interested in enrolling in the Culinary Arts program, contact Cheryl Bohn at 414-297-6535 or
email [email protected]