Basketball player Lauryn Evans proves to be a game changer on and off the field
From travel ball to high school success, winning has always followed Milwaukee Area Technical College's women's basketball player Lauryn Evans. A veteran member of the team that hopes to bring experience and leadership to an otherwise young squad.
"I'm really looking forward to the season, we have the tools and the ingredients, and we can really make something out of it," said Evans.
A large freshman class and ten total players is a big change from the COVID-19 ravaged 2020 season, which saw them play club level and also saw Evans go down with an injury.
"Last year was difficult, and I sprained my ankle, so that left us with even fewer people. My expectation for this year is to stay healthy and be dependable and there for my team," said Evans.
Dependable has been Evans's middle name. The Peoria, Illinois native had a starting role on Richwood's High School team and helped lead them to a 56-10 record during her two years. She credits this experience and a passion for winning as significant motivating factors for this upcoming season.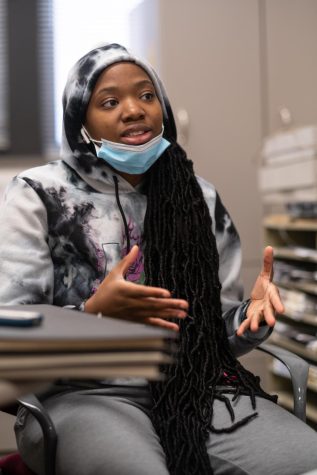 Her experience is also a big part of the team this year. With six freshmen coming to the program, Evans has become one of the veterans and a key leader. Her leadership has been felt throughout her time at the school, but perhaps one of her closest teammates have felt it the most dramatically.
"She is not only my teammate, but also my roommate for two years now," said sophomore Daysia Christian.
"We both help each other get up in the morning, and she motivates me to succeed in the class we share and school in general. She has become like a sister to me," said Christian.
She was able to get some experience with Evan's blunt and straightforward approach last season. Prior to Evan's getting injured both players were key contributors on both offense and defense. As two of three returning players to the team the teammates are looking for a major bounce back year for the program.
While Evans is committed to the season ahead, she also has plans beyond MATC. She plans to continue to a four-year college with interest in a law degree. Her dedication for school has not only been felt in her own life, but also by people close to her.
"You can tell she definitely loves the game and if you ever need to talk to someone she is there. She is very approachable and will tell you what and how it is, no sugarcoating," said teammate Christian.
The women's basketball team is off to one of its best starts of the past few years. Evans and the team starting the season with a three-game winning streak.  The team's early season success has not deterred her from striving to reach her overall goal for the year, which is winning.
"I'm not a big fan of losing, and we lost a lot last year. I just want to make a name for women's basketball at MATC, the boys are already there, so why not us?" said Evans.
2021 – 2022 Schedule:  Women's Basketball Schedule
More from the MATC Times: College incentives to help bolster participation in vaccination status disclosure ends today
Men's Basketball conditioning practice at Bradford Beach: Photo Gallery: Men's Basketball
More from the MATC Times:  Over a year in the making: The Community Art Collection
The MATC Times can be reached at 414-297-6250.
Follow the Times on Instagram at www.instagram.com/matctimes/  Facebook at https://www.facebook.com/matc.times and Twitter at MATC Times