Five Star event is five stars
The Five Star Food and Wine Evening bedazzled and catered to the spice-rack wits of its attendees on Thursday, April 23. Another great success of palette enticing, networking and good cheer, it collected people from all around Wisconsin and beyond.
Once you enter, you're immediately greeted by silver trays of fine, handmade chocolates, passion fruit marshmallows, raspberry white chocolate and candied jellies.
Amber Lazenby, a student in the Baking and Pastry Arts program, says, "I really like this event. It showcases all of the different talents that we do and gives the public a chance to sample it. It also shows the reflection of the instructors that we have too," Lazenby said. "I really appreciate that it's a scholarship program, so if you sign up for the scholarship, you get to see on the other end of how they fund that scholarship. The people that fund it know and can see the actual results of that funding."
Tom LaPierre, Pastry Arts instructor, says, "Five Star is an amazing event. We showcase the talents of the students through the food and their amazing creativity. The great thing about it is that it's for a fundraiser for student scholarships. It's about 600 people having the time of their lives with some of the most amazing food ever, affecting the students in a really positive way. It's just a great, great event."
Dr. Jeff Hamill, Anatomy Physiology teacher at the Oak Creek campus, and his wife, Dawn, heard by email. "We had known about it for a number of years, but weren't able to attend and this is the first year that we were able to attend," he said. Dawn Hamill added, "We were at one of the tables, while mingling with people, and chatting with a couple of women, they said they heard about it through television."
Rosemary Rice, a student in Event Planning Management, volunteered for the gala in wristband placement. Rice stated, "This is a wonderful event. A lot of people came out to help with the fundraiser for sponsorship, and it's been great so far. People are cheerful and having a good time out."
Martha Borrell, in the Baking and Pastry program, added, "So far I am really enjoying it. I entered the Five Star cake competition, and I am really happy with this program. My favorite so far is the specialty baking and pastries."
A Kombucha station for health and vitality welcomed onlookers with teas, hummus and veggie sticks. Next, an American sandwiches section gave away samples that released wafts of rich, grilled, melted cheeses made with real Wisconsin cheddar, butter, and mozzarella. Following, were food stations such as Asian, which handed out morsels of kung pao chicken, Asian lettuce wraps and pot stickers. This was closely followed by a wood-fire pizza table lined with pre-cut squares of chunky portabella mushrooms and bruschetta, spicy chorizo and Italian sausage, and there was even a lobster and pesto creation.
The forest station, set with the twinkling lights of a Harry Potter scene, bewitched minds and ensnared the senses with venison croquets paired with wild rice and blueberry compote, plated pan-seared duck drizzled with fig sauce, dandelion greens wrapped with chestnut-buttered crostini, and a rabbit ragout. As the lines moved along, patrons got glimpses into MATC kitchens and stock rooms as they sampled the rare dishes.
The old cafeteria on the sixth floor housed the bigger portion of the gala with a private band tickling out smooth jazz, carving tables, an ice bar where chefs sautéed delectable dishes, several meat and specialty item tables, such as the seafood station, that displayed smoked salmon, oysters, crab cakes which disappeared as soon as they landed, and scallop casserole. A silent auction was set about the room with various items up for grabs. The beer, wine and soda bars kept in rotation, wetting whistles with the likes of pinot grigio wines and pale amber frothing crafts.
Two separate side rooms provided additional fare. The first, a European stand, had a variety of oysters such as Kumamoto oysters, chicken and lamb gyros with tzatziki sauce, their own take on the French 75 cocktail, which is sparkling water, juniper simple syrup, a lavender simple syrup and lemon juice. Lastly were a raspberry mousse, chocolate hazelnut, tropical cheesecake and baguettes.
In another nearby room of hustle and bustle, Carly Scublaski, Baking and Pastry program student, said, "This is my second year helping in the event, and it's a really great event. They're auctioning the cakes off right now and the money goes to scholarships. If you're in the Baking and Pastry program, you can apply to do it. I like to see people come out and enjoy and see what we do." As she served fondue sticks of kiwi, square stamped marshmallows and grapes made to dip in pools of dark, milk and white chocolate, the people who bid on student -made cakes walked away, one by one, with their lucky winnings.
One such winner was John Gaines, a friend of MATC. "I was actually invited by a board member," he said. The cake he won was cake No. 34, Double Trouble.
Dr. Rich Busalacchi, assistant dean in Hospitality at MATC, was excited about how much people love the kitchens. "Five Star is really a fundraiser, but it's also a friend raiser. It really allows the students and staff in the Hospitality department to showcase what it is that they do best. Another piece to this event is that we get folks in who've never walked the inner halls before and they get to see MATC in an entirely different light," he said.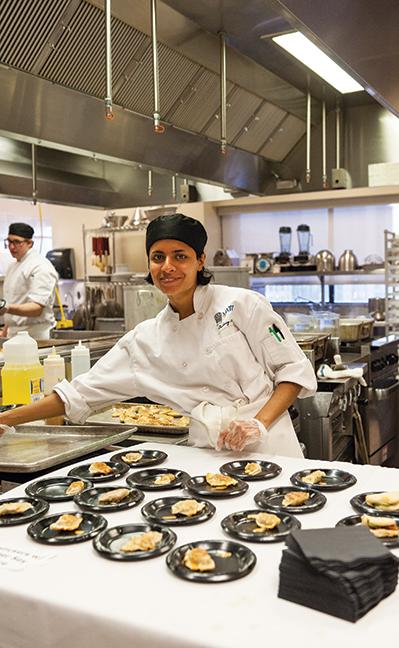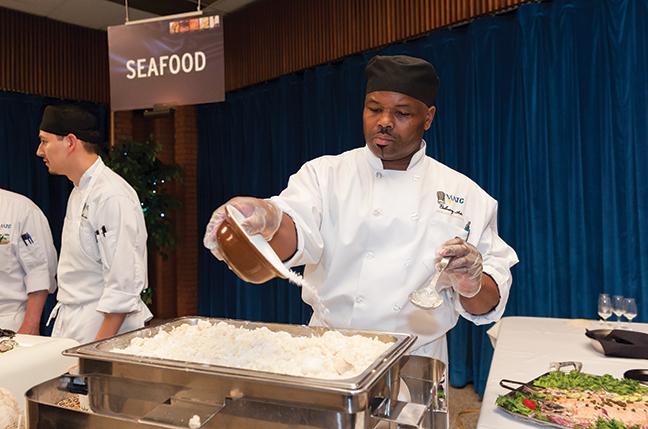 About the Contributors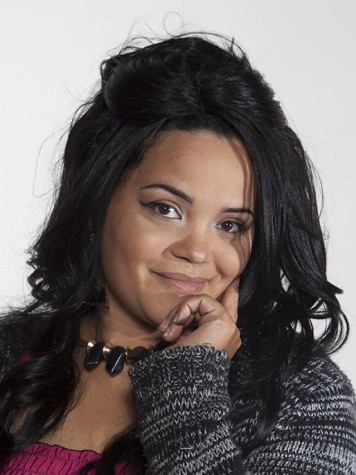 Teresa Rae Butler, Times Scene Editor
There is a certain capturing of the heart and mind that happens to people who love their school and love their school newspaper. I am one such person....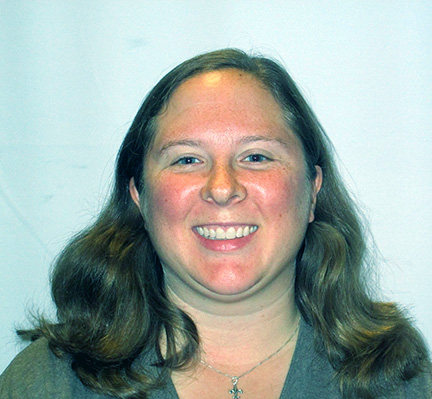 Kirsten Schmitt, Times Senior Editor
My name is Kirsten Schmitt. I joined the MATC Times because I was on my high school paper and really enjoyed the experience. I wanted to enhance my experience...