Spice up the Season with a dish of Ceviche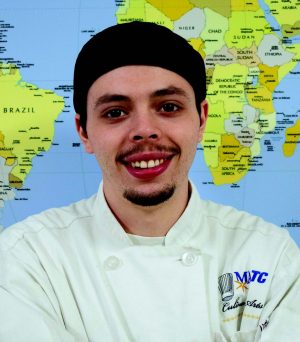 Ceviche is said to have originated with the Moche civilization in northern Peru almost 2,000 years ago. They used fermented banana and passion fruit to help cure the fish. That all changed when the Spaniards arrived and introduced lemons and limes. Ceviche is now part of Peru's national heritage, with a holiday celebrated every year on June 28.
When he was given the opportunity to create a dish for this column, second-year international
culinary student Jacob Gardner could not wait to share his favorite Caribbean dish, ceviche. "I always loved Caribbean food, it's my favorite," exclaimed Gardner. "My mom is from Jamaica, so I travel there often and I end up eating a lot of ceviches. I created this recipe on the spot," he added.
He has worked in the culinary industry since he was 14 years old. He enjoys the industry because it gives him the chance to travel all over the world. He considers school to be a great adventure. "The people in my program are great and the instructors are extremely knowledgeable," said Gardner. "I just enjoy coming to school and learning every day, it's really nice." His greatest highlight has been being able to work with state-of-the-art equipment. "Where I work now we don't have anything as nice as the equipment at MATC," he said. MATC students are working with dream equipment like Combitherm ovens valued at over $15,000.
Gardner plans to graduate in 2020 and jokes that his dream job is to work under a great chef that he can learn from and doesn't mind getting yelled at by.
Caribbean food is a popular cuisine. It's always healthy and fresh; whether it's fresh tropical fruit or fresh coastal fish. It is a staple of the Caribbean diet. Ceviche is a seafood dish that is made with fresh fish or shellfish that is cured in citrus juice, typically lime juice. It's a great mid-day snack to keep you going on your tropical vacation or just a nice, healthy appetizer to serve with friends. This recipe is four servings of a Bahamian conch ceviche. Enjoy!
– Jacob Gardner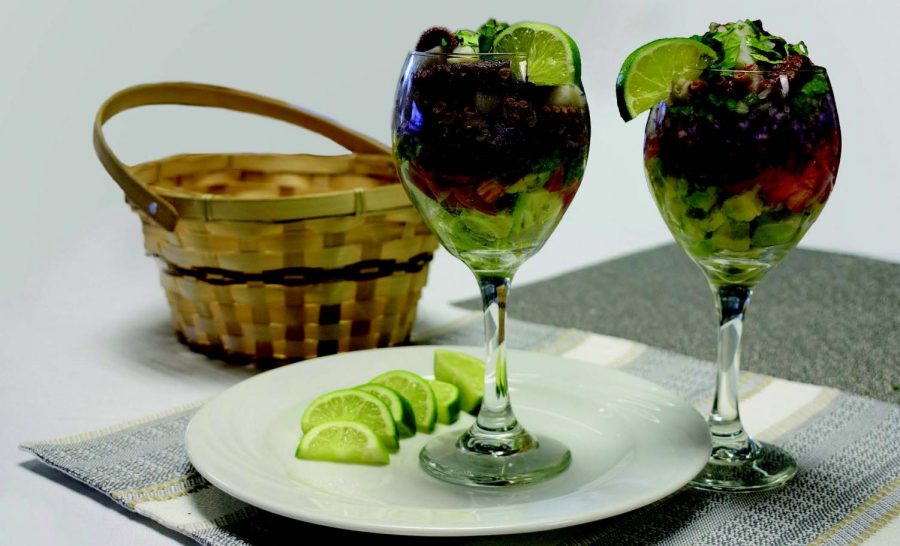 • 1/2 pound conch, orange flaps removed and diced
• 1/2 cup diced tomatoes
• 1/4 cup brunoise red onion
• 1⁄2 green bell pepper, seeded and diced
• 1⁄2 Scotch bonnet pepper, seeded and minced
• 1 tablespoon sugar
• 1⁄2 firm, ripe avocado, peeled, pitted and diced
• 1/2 ripe mango, peeled, pitted and diced
• 3 key limes
• 1⁄2 sour orange
• kosher salt and black pepper, to taste
Directions
1. In a stainless steel bowl, place conch, tomatoes, onion, peppers, and sugar.
2. Add the avocado and mango.
3. Squeeze key limes and sour orange over the ingredients.
4. Season with salt and pepper, then toss.
5. Taste and re-season if necessary, adding more sugar to reduce the liquid.
Jacob Gardner is a student of Chef Robert Barton. International cuisine is an 8-week course that covers the cuisines of Latin America/Europe and the Mediterranean/Asia and America.
If you are interested in enrolling in the culinary arts program, contact Cheryl Bohn at 414-297-6535 or email [email protected]