Fire program blazes the way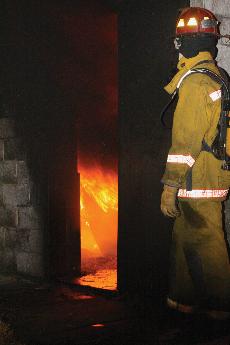 Hang on for a minute...we're trying to find some more stories you might like.
Phil Timber knew he wanted to be a firefighter since he was 13 years old. At the time Timber was a member of Oak Creek's Fire Station 3 Explorer Group. Today Timber is one of 120 full-time students in MATC's Fire Protection Technician program, housed at the Oak Creek Campus. Like many other students in the program, Timber enrolled immediately after high school because of his love of firefighting. And like many students in the program, he quickly discovered that firefighting frequently challenges his physical and mental abilities. "When you get into this, you realize how challenging it is," said Fire Protection Technician student Jamie Kelm.
Preparing their students for those challenges is the job of James Piech, instructional chair of the program, and his team of instructors. The staff also consists of full-time instructor Niles Ottesen and over 30 highly-trained part-time instructors.
They include fire chiefs, captains, lieutenants and training officers representing nine of Milwaukee County's 13 fire departments. There is also an instructor who works at a fire station in Pleasant Prairie, Wisconsin. Of the instructors on the department's roster, 11 have master's degrees. Outside of their work with MATC's fire program, many of them run training programs in area fire departments.
Piech calls the instructors the key to the program. "Our instructors are our best asset," says Piech. "The expertise is here."
Students reap the benefit of that expertise by training in emergency response situations set up by their instructors. In one such exercise called a Live Fire Attack, Fire Protection students work in teams to enter into a smoke-filled building and extinguish a series of fires.
Another exercise allows students the opportunity to safely witness flashover conditions. Flashovers are extremely dangerous situations in which the gases found in smoke inflame and quickly spread or "flashover" the firefighter's head. Flashovers can reach a temperature of up to 1,100øF.
Often, when a firefighter realizes he or she is in a flashover, it is too late to do anything about it. The Fire Protection Technician program has a bi-level training room that will reproduce flashovers in a controlled environment.
Students work with the latest equipment, including ladders, ventilation fans, extractors (better known as the Jaws-of-Life) and two fire engines.
They learn to drive and maintain the fire engines as part of the program. Students can rent their Personal Protective Equipment gear, such as their helmets, gloves and coats, from the department.
Students also take courses in building construction, fire prevention and emergency and disaster planning. The program also teaches employability skills such as resume-writing and interviewing skills.
In addition to the staff, the Fire Protection Technician program also has an advisory board comprised of area fire chiefs as well as members of private industry. Part of the board's charge is to suggest improvements for the program. One of those suggestions was to incorporate a certification process into the completion requirements.
Implemented in August 2007, the six-course certification includes classes in emergency medical technician licensing, fire inspection and hazardous material training. Students earn their certification while simultaneously completing the program's 70-credit curriculum.
It aligns MATC's program with similar fire science programs offered at four-year campuses in the state, thereby making it easier for students to transfer to a four-year college after completing their associate degree. It also benefits graduates of the program by supplying them with necessary skills employers seek in new recruits.
This is welcome news for students like Josh Rauch who are concerned with employment prospects in the area. "Around here it's nearly impossible," said Rauch when describing the probability for new firefighters to find full-time employment.
Rauch says that some departments have a five-to-10 year waiting list for full-time new hires, with Madison being the only city in the area currently hiring full-time firefighters. Part-time work, says Rauch, is easier to come by.
Piech is more optimistic when describing employment opportunities, calling the job outlook for firefighters "cyclical, but steady." But with Milwaukee County cutting the number of firefighter positions and the number of stations ready to respond to emergencies, Piech says it will become increasingly difficult for graduates to find jobs.
Piech says that some fire departments are starting to require graduates to be certified before applying, which is one reason why the certification process was built into MATC's program. Some fire departments are requesting that firefighters have advanced degrees.
"It's very, very competitive," stresses Piech. "Graduates have to distinguish themselves and do more than meet the minimum qualifications." Piech suggests one way for students to set themselves apart is to intern with a local fire department.
Another challenge the fire protection program is working to overcome is increasing the number of students from diverse backgrounds.
Although Piech could not say exactly how many, he acknowledged that they were seeing more women enroll in the program. Piech also said that students of color made up 13% of their total enrollment in 2007, which is the most recent year for which they have figures.
Piech describes firefighters as a unique group of people who share a family mentality. "There's a real bond," says Piech. Because of the long hours spent together and the dangerous nature of the job, firefighters form a sense of camaraderie. They often prepare and eat meals together and spend their holidays working together.
There is a similar camaraderie in the Fire Protection program. Piech, a graduate of the program himself, says instructors serve as mentors to their students, taking them under their wings, while at the same time being realistic with them about their progress.
"We tell students when they need to improve," says Piech. "We want to see them get through a course, get through the program and get a job.