Students stop and shop for opportunity at Employer Marketplace
Hang on for a minute...we're trying to find some more stories you might like.
On March 22, the MATC JOBshop sponsored an Employer Marketplace held in the downtown Milwaukee campus S Building in the second floor atrium. Representatives from the Milwaukee County Sheriff's Office – Corrections, Southwest Key Programs – Youth Mentoring Programs and Allied Health Group staffed tables with information for students interested in careers in corrections, mentoring and health fields.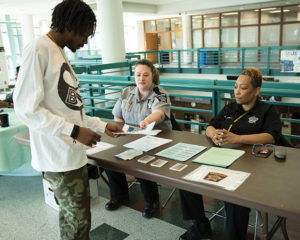 Photo by Carol M Starr