Motivation behind Tyler Mauch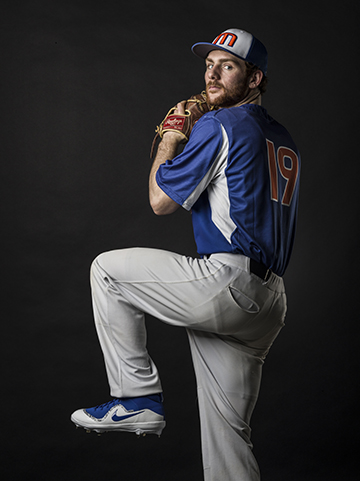 I spoke with Tyler Mauch, a student athlete in the Associate of Arts program here at MATC. I asked him a variety of questions about the upcoming baseball season, his involvement with the team and his inspirations in baseball. Below is the Q&A I had with Mauch.
Q: How did you find out about/get on the team?
A: I had known about MATC's baseball team for years since one of my high school coaches played here. I actually joined the team after I found out a few of my friends were also playing.
Q: What is your position on the team?
A: I am a pitcher for the team.
Q: Who is your inspiration and why?
A: My inspiration in baseball, but also in life, is definitely my parents.  Many people close to me know my mom was diagnosed with early-onset Alzheimer's almost five years ago. My mom gives me inspiration to be the best version of myself every day in order to make her proud. My dad also sacrifices so many things to allow me to continue both my education and athletic career, which I'm eternally grateful for. My parents give me all the motivation I need on and off the field.
Q: Do you have any hobbies or interests other than your sport?
A: In my free time I enjoy working out, listening to music, reading, and playing other sports such as basketball or football. I also spend a lot of my time playing with my dog, going on walks and taking trips to the dog park.
Q: Is there anything else you would like to add about yourself?
A: I wanted to say how thankful I am to attend MATC and for all the influential people I've met along the way. I've grown tremendously as a person from going to school here and I'll proudly be a Stormer for life.
A big thank you to Mauch for taking the time out of his busy schedule to meet with me. Good luck to you and your team. I hope everyone gets a chance to go and support our Stormers baseball team this season!