Health information technology a career with room for expansion and advancement
Carly Walker started out as a MATC student in radiography, but soon realized that was not what she wanted to do.  So, she went online to find other programs that MATC offers and came across the medical coding program.  Walker reviewed the program further and with the encouragement of her father, she changed her course of study.  "Medical coding, I found, was more my pace because I like to be behind the scene," said Walker. She wants to be part of the medical community and her course studies will allow her to work with patients, but not face-to-face, as she prefers.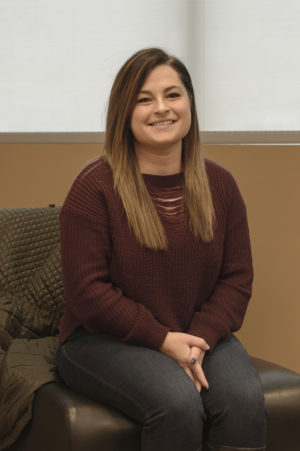 Walker says while trying to get into the program she encountered problems registering for classes, but constant contact with program coordinator Catherine Bell and program instructor Joan Wolfgang helped her get into her classes. "My advice to anyone wanting to get into the medical coding program is to ask questions, stay in contact with the instructors because they are willing to help in whatever way possible so that you can succeed, and work with classmates to get work done," Walker said. 
The medical coding program requires that the student first complete the general education courses and then go through a petition process, which involves having up-to-date shot records and an orientation once the petition is accepted. 
Although the program allows about 24 students a semester, the classes rarely reach capacity. Walker said that in December she will graduate with her technical diploma in medical coding, and in January she will start her studies in the health information technology program, which is an associate degree.  A student who would like to work in the medical field but not particularly with patients, who also possesses a good understanding of medical terminology, and is highly motivated would be a good candidate for this program, said Walker.
"This would be a good program to get started with if you decide to one day return to school to take up any other related program," stated Walker.  Both Bell and Wolfgang said the medical coding program started in 2007 and the health information technology (HIT) program started in 2015.  HIT is a one-to-one program, which means that the first year is the medical coding portion of studies for a technical diploma.  Then the second year is the HIT portion for an associate degree.
The associate part of the studies allows the student to work in several different aspects of the field, including but not limited to, coding, compliance and cancer registry.  Bell said that students wanting to make this their course of study should, "Be ready to put in work in classes such as medical terminology, natural science classes, and digital literacy.  Learning to work with electronic health records is a course requirement also, and instead of traditional clinicals, the student would take part in professional practices in office settings."
The advice Wolfgang gives to students interested in health information technology as a course of study is ,"to be prepared, have a time management plan in place to be able to study, and be focused and dedicated to school.  After graduation and before you can be hired for a job there are credentials that one has to have.  These credentials are nationally recognized, meaning one could move across the country with them. Taking these courses at MATC will get you ready for them."
"The instructors work diligently to prepare the students to work in places like doctors' offices and hospitals once they graduate.  Students who have successfully completed the program are working in places like Aurora, the Medical College of Wisconsin, Quad/Graphics, Ascension, and St. Mary's," Wolfgang expounded. 
Another factor that makes this career appealing is that it is a job that can be performed remotely, meaning working from home, which many workers apprecitate. This field of work has an extensive path for growth far exceeding the associate degree.   
One of the most important things about this field is that, according to the Department of Labor, health information technology has a 21 percent growth rate in the coming years.