MATC has big presence at Wine and Dine 2015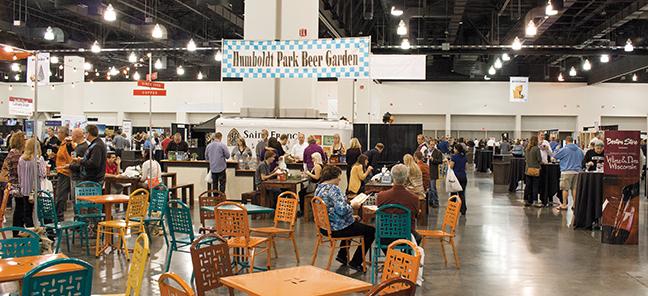 Foodies rejoiced during the 2015 Wine and Dine Wisconsin event sponsored by the Milwaukee Journal Sentinel that took place Oct. 11-12, at the Wisconsin Center.
The aisles were lined with local food eateries, vendors, farmers, producers and businesses, a smorgasbord of variety for the attendee. Wine and Dine also featured libations from brews and wines to handcrafted rum and vodkas, and everything in between.
Sharree Maddox, employee at MATC Mequon campus, said of her experience at the event, "I have sampled so many different vendors and all of them have been really good. There are different kinds of foods I never tasted before and I really enjoyed that … I would highly recommend it!"
MATC showcased the talent of our Hospitality program students, both behind the scenes and in the middle of the action. Rich Busalacchi, representative of MATC Hospitality programs, discussed MATC's involvement at the event, "We have been at Wine and Dine from the beginning, seven years, and it gives all of our Hospitality students, which includes Culinary Arts, Meeting and Events, Culinary Management, Hotel and Hospitality, and Baking and  Pastry Arts, the experience to work with industry folks and connect. We have students on all of the stages, plus we have our MATC Hands-on Cooking Area with Pick 'n Save as our sponsor for the second year."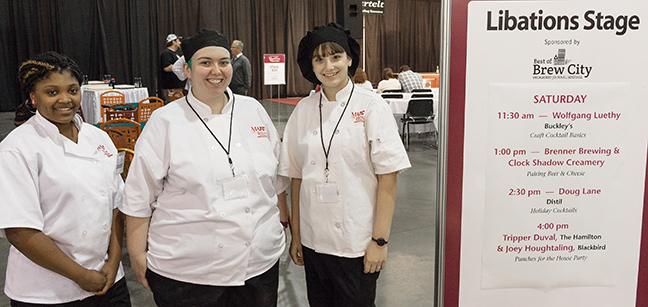 On describing the concept behind the MATC Hands-on Cooking Stage and its success, Busalacchi added, "We realized that there was nothing that folks could cook, create and roll their sleeves up with. It gets people to see MATC in a way they usually would not get to experience." Nicole Johnson, a first-time diner offered, "We loved the MATC hands-on demonstration. We did the spring roll class."
Featured chef Inga Witscher, host of the locally produced Milwaukee Public Television (MPTV) show "Around the Farm Table," shared, "It's amazing! What a great space to see all these different Wisconsin vendors."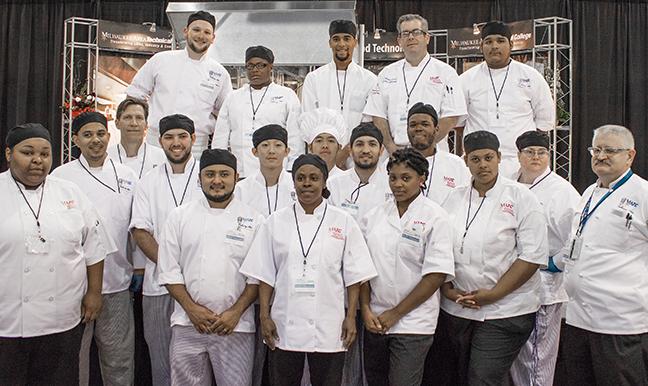 Julie Field Lager from MPTV echoed the same sentiment in response to why MPTV was involved at Wine and Dine 2015, relaying, "As part of MATC we knew that the Culinary Arts students had a presence here and we wanted to do more of a partnership because we are a part of the same organization." MPTV has staked a claim in the local food community and movement by offering local programming showcasing local food, farms and talent. "We thought this was a good opportunity to bring our information to the public. We feature a number of cooking programs on PBS on Channels 10 and 36," Field Lager added.
If ever one wanted to truly get a "taste" of Milwaukee, this event fit the bill and filled the belly.