Second-place honors awarded to our collegiate cyber defense team

Second-place honors were awarded to MATC in the Collegiate Cyber Defense Competition that took place on the Downtown Milwaukee campus. The competition is designed to provide real-world experience to the team members so they can put the skills they have learned to test. The exercise is so grueling that participants actually learn more in that one day than they can learn in class over an entire semester. The experience places the participants high on the list of those desired for employment. Gustavo Hinojosa Jr. and Ryan Condon are two of the participants, with Condon being the team captain. "All the opportunities are in IT security right now," said Condon, who currently works for Badger Meter as a network administrator, the team's major sponsor. He is also an IT student here. Hinojosa graduated last December with his Information Security System Specialist AAS degree, and is currently pursuing his bachelor's degree in IT security at the University of Maryland.
The exercises take three teams and puts them each through simulations of actual security breaches that large corporations and governments experience. They must detect the breach and repair it while maintaining a strong defense against the hacker, and prevent the intruder from wreaking further havoc on the entire company while the company is conducting its normal business affairs. The security of data is critically important because so much of the hacked information can cause life- threatening consequences if used by the wrong people.
One particularly desirable database is HIPPA protected medical records. It only takes a small hole in the IT security for hackers to access a treasure trove of personal information, including Social Security numbers, health record numbers, insurance account numbers, and other very personal information. This information is not always checked for breaches as often as retail sales operations which can allow a hacker to do considerable damage to a person via identity theft. 
Almost weekly, large entities are being hacked like Sony, Home Depot, JP Morgan Bank and Target stores. Recently the federal government was hacked for military records that went back to the 1980s. Millions of citizens were affected and exposed.
One of the most important IT programs at MATC is cyber security. Currently there is a surplus of jobs in cyber security of more than 60,000 positions.
With just one or two IT security certificates a person can enter the job market at the $50,000 to $75,000 range, and  with the acquisition of a bachelor's degree in cyber security, can earn $140,000 to $180,000 depending on the region of the country. These jobs are global and in high demand. Condon is being recruited frequently by other companies. He loves working with Badger Meter.
Badger Meter has been the team sponsor since May 2014. They provide professional work space at their Global Water Center location, contests' entry fees, catering for the teams on the competition day, and awards, shirts and plaques. The company has already enjoyed a great return on their investment and has committed to sponsor next year. David Jacko and Logan Ludeman, two of the top team members, are currently interns there.
Hinojosa said,"It takes a special type of person to excel in this field, so once they are identified through this competition, they are highly desirable by the government and all the major global corporations." Hinojosa further stated, "Job security, personal growth, a satisfying compensation structure, and the global appeal are the most desirable reasons to pursue a career in IT security." He is the president of the Information System Security Association student chapter at Mequon campus.
The team recently presented Rich Meeusen, the CEO of Badger Meter, with their winning trophy as a token of their appreciation for the company's support.    
About the Contributor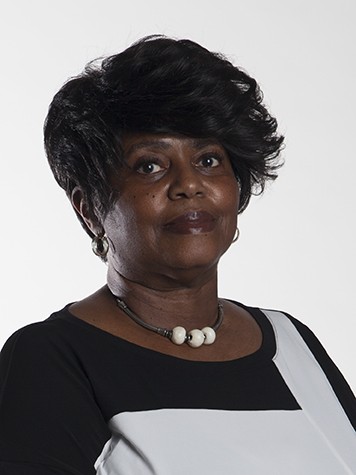 JoAhne Penney, Mequon Campus Editor
A naturally nosey person, JoAhne Penney has enjoyed finding out what is going on, and telling others all of her life. She has been out of school for decades,...