Tech N9ne 'lets off' at the Rave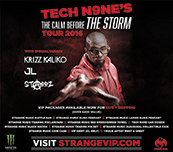 Saturday Sept. 10, The Rave in Milwaukee welcomed Tech N9ne and Krizz Kaliko, for "The Calm before the Storm 2016 Tour."
With Opening acts, "We Are One,"  "JL " and Baltimore artist, "StarrZ," The first-to-go performers were a fire-side lineup constantly crushing the crowd, setting the stage for the perfect storm. Blowing in like a F5 tornado, Krizz Kaliko destroyed the platform with chops and verbal voyeurism, uncovering the naked spirits of the hysterical masses. 
Known for his love of the unknown on soul searching in songs like "Stop the World," Kaliko opens up old and new wounds of people wondering why there is so much pain.
Kaliko always proves that he can hold his own in song and rhyme to numbers like, "Talk Up On It," time after time from the word, go. Whirling a towel over his head, he summoned the brotherhood of a man equivalent to a volcanic explosion.
Almost as if he came through the floor in a separated fault line, Tech N9ne, in his famous half skull mask, appeared through chronic smoke.
The frenzied fans experienced a total melt-down. Mega-fantastic describes these two as a duo, both in red and white attire, as they bled and dazed the bystanders with super strong stratus-cloud hits like "Erbody but Me," and known for sabotaging the doubters with songs like, "Why Me?"
With his, "Ah Yeah?" questioning of the Creator, Tech (Nina) has all of the skills of a certified butcher, placing grade A chopper style viciousness to the listeners minds, pulling apart the left lobe from the right. People were literally going crazy, as in "Hood Go Crazy." 
If you've never been to a Tech N9ne and Krizz Kaliko concert before, expect to see humans throwing themselves to the stage at all cost and being dragged away by beefy security, kicking and screaming.
One person was wheeled away in a wheelchair for passing out, and several people were grabbed by body guards for being too rowdy.
Tech even jumped down off the stage walking over to us to shake hands with adoring admirers. Towards the end of the nearly hour long set, the electricity in the air was vivid. Some of the final moments were pulled from the "Son of Sam," album and women long plotted to go topless. Females could be seen far and wide baring their hearts to the last beat. Some guys even joined in for kicks.
This concert was a portal of intervention and understanding opened up to complete annihilation.   
Yes, Tech N9ne keeps one in the chamber on the music charts as the #1, Indie, go-gold rapper. The album, "The Storm" was released on 12/9/16.
About the Contributor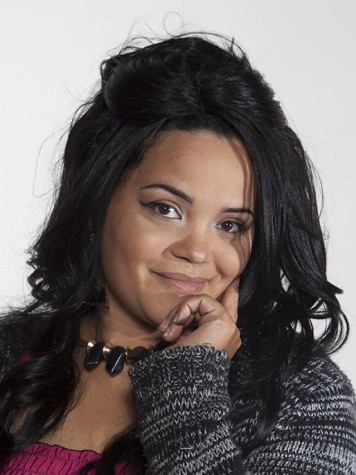 Teresa Rae Butler, Times Scene Editor
There is a certain capturing of the heart and mind that happens to people who love their school and love their school newspaper. I am one such person....