Molina kicking up a storm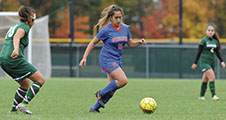 Hang on for a minute...we're trying to find some more stories you might like.
Jackie Molina is a freshmen player on MATC's women's soccer team.  Molina was a difference maker for the team as she scored eight of the 13 goals for the entire fall season.
Molina demonstrated the quality and skills to play in any team in the league. Coaches and staff in the league voted her to the second team all-region, which is a great achievement for the Stormers and an even better achievement for Molina.
She plays midfield and forward and goes back and forth, playing wherever the team needs her.
Molina has shown a great attitude and the Stormers have high hopes for her next season.  With a little bit of help from the new recruits, Molina could make the first team all-region as well as receive all-conference nominations.  Molina also is in the running for the MVP of the MATC team this year, along with Ahsha Ford.
The team this year has taken a step in the right direction. The Stormers won a couple more games than last year and also, for the first time in a long time, they qualified for the playoffs.