Alexander shines spotlight on racial undercaste in America
In her book, "The New Jim Crow:  Mass Incarceration in the Age of Colorblindness," renown author, civil rights attorney and associate law professor, Michelle Alexander carefully documents the American rise to the status of holding the highest incarceration rates in the world. Presented by the Helen Bader Foundation and sponsored by the NAACP Milwaukee Branch and MATC, Alexander packed the Cooley Auditorium with students, faculty, and community leaders. Enlightening the audience to the fact that over a 30-year period from the 1970s until today, the American incarceration rates quintupled, from a mere 350,000 then to over 2 million today. Drug convictions have increased over 1,000 percent.
Most of this phenomenon is blamed on the "war on drugs" which was declared by President Ronald Reagan when drug crimes were on the decline. Then, escalated by President Bill Clinton with the "three strikes" distinctions the "war" provided longer, harsher sentences, and created federal laws which banned many human rights, for life.
Currently there are more African-American men under correctional control, in jails or prisons, than were enslaved in 1850. In most urban areas in the country it is common for more than 50 percent of all black males to have a felony conviction, and in cities like Detroit, Chicago, Milwaukee, Baltimore and Philadelphia it can go as high as 75 percent to 90 percent.  Federal and state laws rewarded cities and police departments with cash by the millions for the sheer numbers of black men that were brought into the system. Not requiring a conviction, only a charge, brought new laws and ordinances onto the books that made black males "low hanging fruit" with stop and frisk being a major offense to the freedom of African-Americans. Minor traffic violations are another method of bringing people into the penal system. Once in the system a person can lose the right to vote, right to live in public housing, right to food stamps, right to receive federal financial aid for college or university education, and the right to many professional licenses for life. People of color are no more likely to use, abuse or sell illicit drugs than any other race. Milwaukee has from one-third to more than 50 percent of the black males living here with a felony charge on their record.
Alexander joined a panel of community leaders to discuss the current social dilemma of incarceration and its consequences after her presentation. Judge Carl Ashley, an attorney for 30 years, a judge for 15 years, said, "It is undeniable that we have an under-caste of people, because the deck is stacked against black males, but it is not permanent. We can change it."  It has to be handled through the voting system; new laws need to be made to fix the current problems. "The people need to take their frustrations out by exercising their right to vote, and elect people that share their concerns and solutions. The focus needs to be prior to entry into the judicial system," said Ashley.
Andre Lee Ellis, a community activist and community theater director/owner, said, "Our children suffer the assassination of their character on a daily basis." He lives in a Milwaukee zip code that is heavily affected by black male incarceration. He urged the thousands of attendees to be sure to register to vote. There were several tables of people available to register those wanting to get registered right outside the Cooley Auditorium doors.
Alexander reminded us that "Today, it is legal to discriminate against criminals. The problem is most black males are not aware of their rights or how to defend them." Lois Quinn, senior research scientist for University of Wisconsin-Milwaukee Employment
and Training Institute, said, "This prison issue is disgraceful. Nelson Mandela called the United States the skunk of the world." Quinn pointed out that we need to take everyone's criminal records off of the Internet, we need job training for black and brown people, and she feels MATC should be the center of education for inmates.
About the Contributor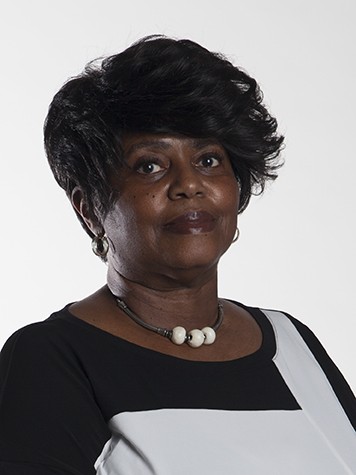 JoAhne Penney, Mequon Campus Editor
A naturally nosey person, JoAhne Penney has enjoyed finding out what is going on, and telling others all of her life. She has been out of school for decades,...