Experienced players hope to propel Stomers' volleyball this season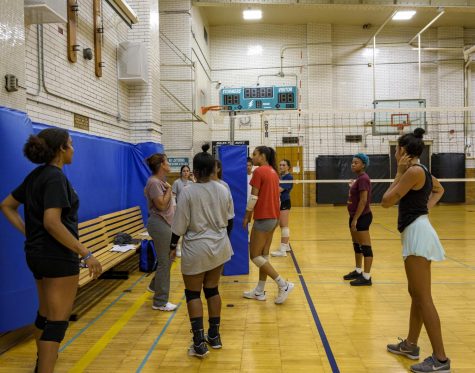 The women's volleyball team will be fielding a roster with veteran experience and new energy, something they hope will give them an edge on their competition.
It has been nearly two years since the team took part in organized games. Volleyball was one of two sports that did not run at all last year, the other being soccer. Even with a break in the action, the team did not waver in maintaining talented players.
The roster will include Viktoria Mejia, Georgia Lee Baker, Stacylyn Polewcynski, and Ashlynn Jarlsberg, all players who have been a part of the team for at least a year. Meija was also on the roster two years ago and is the longest-tenured player on the roster.
These players not only bridge the gap from previous teams, but they also will give the new set of players needed guidance when going forward.
Along with the returning players, six new players chose to participate in volleyball this year. All these players have extensive high school and club experience as well.
"We are excited to have so much talent as this is the biggest recruitment class we
have brought in so far. All six incoming players have seen extensive varsity & club experience" said coach Shel Delisle.
Before COVID-19 hit, the team was on an upward swing, having achieved the best record in school history. The 12-15 record was an acute difference to their first few seasons as a program, which saw them win few games.
Even with the absence of a full season, the team looks to build upon their record-breaking 2019 season.
Watch the team play their home opener against Joliet Community College on September 7 at Reiman's Gym at Alverno College, 3401-3499 S 39th St, Milwaukee, WI 53215.
More Sports: A full season of sports expected in the Fall
More Volleyball: A Winner both on and off the Volleyball Court
The MATC Times can be reached at 414-297-6250.
Follow the Times on Instagram at www.instagram.com/matctimes/  Facebook at https://www.facebook.com/matc.times and Twitter at MATC Times