Smith's 'Focus' requires focus from audience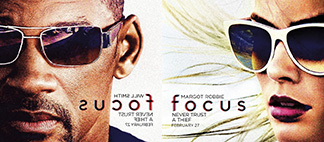 Will Smith and Margot Robbie join together to make a movie about con artists at work. It is a very detail-oriented movie that you really have to pay attention to or you will get completely lost. This action movie keeps you hooked on every detail.
Nicky (Smith) is a very well-experienced con man. He was born into the con world as his father and his grandfather conned before.
One night he was sitting at a restaurant when a beautiful lady named Jess (Robbie) comes up to him and starts a conversation. It soon gets heated and they go up to the bedroom.
This is when her "husband" comes in and points the gun at Nicky. Nicky plays mind games to get the guy to put down the gun, and tells them that they are not really good at the game of con and tells them how to do better.
Soon after Jess asks for help from Nicky, and he tells her she has to keep focus.
This movie is not really action packed, but a lot of things do happen. It is more of a mind game than anything. You want to know what happens to each and every character you meet and you also want to know what tricks Nicky has up his sleeve.
All in all, it is a very good movie. It shows just how many cons are out there, and the different types of tricks that you could face. Watch as Nicky always seems to get himself out of sticky situations. I highly recommend this dramatic movie.