'Maze Runner: Death Cure' review: Franchise's thrilling, but violent finale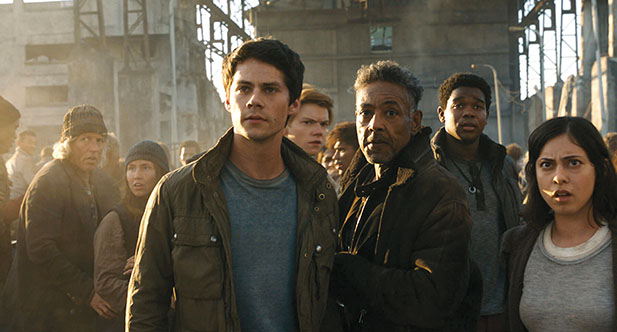 'Maze Runner: Death Cure' review: Franchise's thrilling, but violent finale
Hang on for a minute...we're trying to find some more stories you might like.
Thomas, we hardly knew ye.
We certainly had fun with Thomas, the teenager who escaped from a giant labyrinth in 2014's "The Maze Runner" and then, in the 2015 sequel, launched a revolt against the tyrants who put him there. Played by a serviceable Dylan O'Brien, Thomas reaches the end of his journey in "The Maze Runner: The Death Cure," a hard-hitting finale to an unusually intense young-adult franchise. I think I speak for all fans of these films, though, when I ask: Who was Thomas, really, and what was his story about?
It's possible not to care and still enjoy "The Death Cure," which is first and foremost a big-budget action film aimed at the too-young-for-"Mad Max: Fury Road" set. It begins with a wild heist job involving a cargo train, moves on to some zombie-splattering, then wraps up with a vast, all-encompassing inferno. This series has always been known for high-impact action, but "The Death Cure" includes more than one gaping gunshot wound and crimson blood. The film seems to be betting that its fan base has grown a bit and is now ready for some truly rough stuff.
If only these films offered as much emotional resonance and depth of character as they do spectacle and action, they might have been a credible rival to "The Hunger Games." (The series' three-time director is Wes Ball; the screenplay is by T.S. Nowlin, working from James Dashner's novel.)
We're happy to join Thomas' daring rescue of Minho (Ki Hong Lee), but nobody reminds us what made their bond so strong. The same goes for Newt (Thomas Brodie-Sangster), a young rebel who plays a more central role this time around. As for Teresa (Kaya Scodelario), her relationship with Thomas – a combination of magnetism and pragmatism – is too complicated to explain even with a 142-minute running time.
After Thomas and his crew finally break into Last City, a walled metropolis where scientists are working to cure a zombie pandemic, various subplots will be wrapped up and the movie's villains (Patricia Clarkson as the dispassionate scientist Ava Paige and Aidan Gillen as the police-state honcho Janson) will meet their fates. It all provides a sense of completion, though that's not the same as closure. In the end, "The Death Cure" makes for thrilling, if not deep-reaching, entertainment.