Do you believe in magic?
Hang on for a minute...we're trying to find some more stories you might like.
Watching Jim Wand perform acts of hypnosis was indeed magical, but hypnosis isn't exactly magic! Seventeen students at the West Allis campus volunteered to be hypnotized.
While under hypnosis, some students were asked to play an instrument; they would pluck at imaginary cords and rock their invisible violins; one student became a conductor and used a balloon for a wand. Other students were encouraged to get up and dance; some performed to the popular song "Y.M.C.A.," while others danced the twist. Students even "soldier boyed" and danced to Beyoncé's single ladies song (even the men shook their rumps!). Students in the crowd were giggling as they watched their classmates fall under the spell of hypnosis.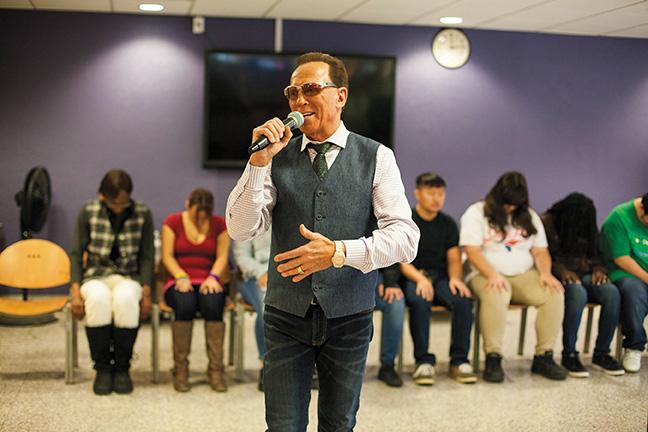 Photo by Dylon Schroeder
Sponsored by Student Life, Wand's performance, which is normally $50 per session, was free to students.
Wand shared information about hypnosis theories and facts. He stated that people's greatest fears are often of falling down or off a chair while under hypnosis. He said that people normally fear hypnosis because they believe that they will lose control of themselves.
According to the Free Dictionary, hypnosis is an artificially induced state of relaxation and concentration in which deeper parts of the mind become more accessible.
So, hypnosis relaxes your conscious mind, which allows the unconscious part of your mind to be more dominant. It uses your imagination to follow suggestions from the hypnotist, but your conscious mind is still in control. You will not do something you don't truly want to do.   
While Wand came to MATC to introduce students to hypnotism and have some fun with it, hypnosis has many clinical applications. It can make you feel energized, so it is actually a great way to relieve stress. It is also thought to help you deal with everyday issues, such as quitting your smoking habit or dieting.
Before he was done, Wand taught students how to hypnotize themselves. He said it could help them to develop better study habits or get rid of other pesky habits that they hate.