Mayer's new work a big disappointment
Welcome back to the madness or just plain Welcome to MATC. This issue we'll catch you up on what was released since our summer issue in July to this Sept. 9 deadline.
As usual with all these big anticipated albums, John Mayer's Paradise Valley (Columbia) is a stunning disappointment. For a guy who has shown so much potential with his previous work, his last two albums are a snooze.
The boy can play his guitar; a student of Albert King and Stevie Ray Vaughan, Mayer has shown that brilliance numerous times (Try). Why he wants to play solely to the masses, without any integrity is beyond common sense. A modern day Lawrence Welk.
Now Jay–Z's Magna Carta… Holy Grail (Roc Nation) is an exception to the above rule. The 16 tracks here are magic and one of the better Jay–Z albums in a while. He needed it, following up that brilliant 2011 duet album with Kanye West, Watch The Throne.
Produced by the likes of Timbaland, Swiss Beats and Pharrell, it features a few guests including Justin Timberlake, Frank Ocean and Beyoncé. Jay always has something to say, which he does here so it's always up to the beats to make the difference on his records and Magna Carta has 'em.
Standouts include the title track as well as "Tom Ford," "F.U.T.W." and "Picasso Baby."
The Rides is a side project by Kenny Wayne Shepherd, Stephen Stills and Barry Goldberg who have released an album of blues classics as well as some self-penned originals. The boys can play and pretty much stretch out here to their soloing fill. Rounding out the group is bassist Kevin McCormick and drummer Chris Layton.
Produced by Milwaukee's very own Jerry Harrison (Talking Heads) the band covering Neil Young's "Rockin' In The Free World" is a bit dicey but they are spot on with Muddy Waters' "Honey Bee."
The Rides debut will not set any records or change the way music is being made but it is a pretty darned good play and a solid effort by some veteran musicians.
Check out "Talk To Me Baby," "Don't Want Lies" and "Search and Destroy."
Just a couple more things real quick and we should be caught up. Robin Thicke's Blurred Line's (Interscope) is not, as a whole, as good as the CD's title track. Then again, every summer there's that one song that gets stuck in your head that you can't get rid of; this year it's "Blurred Lines."
What makes this album of some interest is that Thicke was on the ropes. I mean his previous CD Love After War stalled and was a big disappointment. He was arguably in trouble. Shows what one song can do for your career, especially one produced by Pharrell.
There's much worse out there than Blurred Lines. Other good ones include "Ooo La La" and "Give It To U."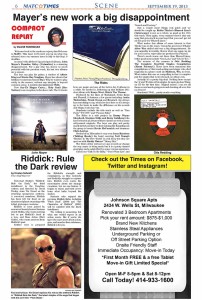 The re-issue of the summer is Otis Redding The Complete Stax/Volt Singles Compilation (Shout Factory!). There have been numerous hits compilations of this trend-setting soul singer who died tragically in a plane crash (in Madison, Wis. no less). What makes this one so compelling is that it compiles just the singles that were released, no album cuts.
Actually it's a pretty big deal. Nothing here except the 'A' and 'B' sides of his singles. In mono no less! Many on CD for the first time. Original mixes! I can see all those record nerds going nuts and drooling all over this (as I have)!
Standouts? Well… pretty much everything.